The Original and #1 Website for Security Guard Training
Online Security Guard Training and Career Center
Welcome to Security Guard Training Headquarters! We have everything you need to make your life easier as you begin your career as a security guard officer. State specific training requirements, a step-by-step hiring process, potential employers and interviews to help you get hired are just some of the helpful things you'll find here.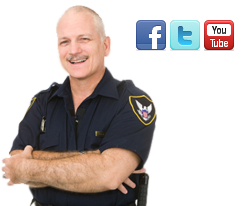 Security Guard Training
Congratulations on your decision to start your career as a security guard!

You are entering a field that is in high demand, so your chances of getting a job and becoming a security guard are more than excellent!

Security guard training requirements vary from state to state. Please select your state below to read both the unarmed and armed security guard training requirements so you can quickly get started.
Security Guard
A security guard is paid to protect. Whether it's people, places, property or assets - a security officer's duty is an extremely important one, which is why the protection services industry is one of the most popular among job seekers today.
Most are employed through private companies that are hired by those who seek protection. No matter what part of the world you may live in, there's always a demand for keeping watch, however training requirements and regulations vary from State to State in the U.S., and country to country as well.
Security Guard Job Description
The job description for a security guard will vary depending on what type of position one is applying for.
For example, an unarmed guard will have different sets of responsibilities than an armed guide - one who carries a firearm while on duty. Some officers will be on patrol, while others will be stationary.
Typically, however, the job entails:
Identifying and preventing risky situations.
Decreasing criminal activity.
Communicating and assisting police enforcement.
Assisting people during emergency situations when they arise.
For more information about the security guard job description, click here.
Security Guard Jobs
As previously mentioned, the demand for security guards is extremely high. As long as you meet the qualifications and have completed the proper training (and again, training requirements depend on your geographical location), you have a great chance of getting hired.
Whether it's through a private company looking to hire their own employed officers, or an actual security guard company that is hiring a force that can be distributed to various job sites and clients, your chances of getting hired are excellent.
Please download the free interview guide that can be found on the right hand sidebar for additional tips for your upcoming interviews, and also be sure to check out our highly popular security guard jobs board, which is creating new jobs for people like you every single day.
Security Guard License
Some states require that you first get a license before you seek employment as a security guard.
In California, for example, you need a guard card, issued by the state, which proves that you have passed fingerprint scan for a background check.
The same goes with the state of Illinois (with a PERC card) and several other states as well.
Other states don't require a license at all, so it's best to check using the convenient map above to see if your area needs you to first get a license before seeking employment.
Armed Security Guard Training
After starting out as an entry level security guard, several people will train even more to obtain a license or permit to carry a firearm while on duty.
Armed security guard training is more intensive, for obvious reasons, and the pass rate for those who take the tests is far less.
The training and examination always include practice on the firing range. Weapons will typically be provided either by the training company and/or the firing range.
Besides the training on the range, basic knowledge about weapons handling, safety, and most importantly - when you are and are not allowed to use a weapon (i.e. the law), will be learned.
After one completes their training and passes their examinations, many more security positions that require some kind of firearms permit will open up, and typically they are higher paying jobs as well.
Security Guard Training in NYC
New York City is a hotbed for the security industry. When you think about how many different companies and properties there are in NYC that need a team of trained people to keep everything safe (especially after 9/11), it becomes obvious.
Unarmed security guard training in NYC involves an 8-hour "pre-assignment" training course, which you must first pass before applying for a registration card and before you can become employed.
After you obtain your registration card, however, you can then begin work and within the first 90 days after hire, you must complete an additional 16 hours of on-job training.
Feel free to read our post about security guard training in New York for more detailed information.
Online Security Guard Training
Many jurisdictions allow one to take training online, however these are usually the most basic, entry-level courses. This can be a convenient way to, in the comfort of your own home, pass the exam necessary in order to obtain your license which will then allow you to get a job.
Again, it depends on where you live, because online courses aren't always accepted. Make sure that if you do live in a state that allows online training, that it's from a state-certified program that will give you what you need to proceed.
More information from wikipedia.
Image Credit: Uckhet on Flickr