The Original and #1 Website for Security Guard Training
Online Security Guard Training and Career Center
Welcome to Security Guard Training Headquarters! We have everything you need to make your life easier as you begin your career as a security guard officer. State specific training requirements, a step-by-step hiring process, potential employers and interviews to help you get hired are just some of the helpful things you'll find here.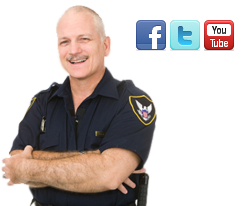 Security guards are responsible for protecting property as well as people. It is crucial to have a keen eye, sharp attention to detail, quick response time, and high-quality gear.
For a general idea of what most security guards find useful on the job, see Security Guard Training Central's rundown of essential security equipment gear.
Whether on-duty or off, security guards and officers need to stay up to date with the latest gear and tactical equipment to do their best on the job. There are many options to choose from in 2019, and this is by no means an exhaustive list, but it is an excellent place to get an idea of what is available today.
Upgrade Your Flashlight
One of the most critical pieces of gear a security guard uses is a flashlight. More than just for illumination, the flashlight can be used in a pinch as a weapon if necessary.
Not just any household flashlight will do. Security guards need the benefits of ultra-bright light as well as durability and weight when used for defense.
Maglite flashlights are a go-to for public safety and security personnel. Maglite's ML300LX has a beam distance of 406 meters with adjustable spotlight and floodlight options. Weighing in at over 1.5 pounds with 3 D-cell batteries and nearly 12 inches in length, the drop-resistant ML300XL is perfect for an emergency weapon in a bind.
Treat Your Feet Well
Most security personnel find themselves standing, walking, or running most of their working day.
Often, security guards work outdoors in all types of weather. Keeping the feet protected, comfortable, and dry in a well-fitted boot is extremely important.
Depending on what type of duty, the feet may need additional protection from outside sources, as well. Dangerous ground littered with shattered glass or a kick or stomp from someone who is out of control can escalate a situation from bad to worse.
Boots specifically designed for heavy-duty use are a must for any security and protection professional. Security-grade footwear like Danner's ACADIA for men and women feature a GORE-TEX breathable waterproof lining to keep the feet comfortably dry from the inside and outside during inclement weather or other messy situations. The ACADIA also sports a fiberglass shank that gives added ankle and shin protection while maintaining a comfortable weight for all-day wear.
Features like these are specially designed for the security and safety of your feet. They can make a big difference to a serious professional. Law enforcement-grade boots like these can be on the expensive side. Still, you can be sure you are making an important investment in your future as a security guard when you're ready to upgrade your boot.
Keep Top-Quality Pepper Spray at the Ready
While armed security guards have the license and training to carry firearms and other weapons, one of the most basic and reliable forms of defense available to every security guard is pepper spray.
If encountering an out-of-control situation, using pepper spray can disable a person quickly and effectively without having to escalate to physical engagement, putting both parties at higher and sometimes unnecessary risk of additional injury.
Pepper spray comes in various strengths and varieties, and a security guard needs to trust that this tool will get the job done quickly and effectively.
Sabre Red is one of the most trusted brands of police-grade pepper spray available for a security professional. Its latest line of tactical pepper sprays and gels features additional accessories perfect for a security guard's specific needs, like a rugged tactical clip or belt holster to ensure it's at the ready when it's needed.
Security is serious business. Keeping up to date with the latest gear and equipment and being prepared for any situation is vital for 2019's cutting-edge security professionals, whether new to the beat or a seasoned security veteran.