The Original and #1 Website for Security Guard Training
Online Security Guard Training and Career Center
Welcome to Security Guard Training Headquarters! We have everything you need to make your life easier as you begin your career as a security guard officer. State specific training requirements, a step-by-step hiring process, potential employers and interviews to help you get hired are just some of the helpful things you'll find here.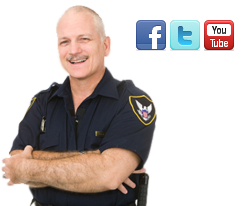 Congratulations on your decision to become a security guard! Security guards are essential peace keepers, especially in today's tense culture of civil unrest and rampant crime. By becoming a security officer you will be protecting your fellow citizens, their property, and the business interests of the organization you were hired to protect. Security guards are deemed essential workers, and more importantly each officer is a HERO! Thank you for your willingness to serve and protect our great nation and our citizen's interests, standing alongside of our other brave men and women in law enforcement.
Security Guard Requirements
You can build a long and prosperous career in security, especially in today's contentious environment. If you are looking to dip your toe in the water, prior to a full career shift, there are many opportunities with side and contract work in addition to your main job. The main requirements to become a security guard are as follows:
At least 18 years of age
Drivers license in good standing with a clean driving record
Clean record, no felony convictions, etc.
18 Years of Age
This can differ by clients, security assignments, and the various events or businesses you're protecting. Generally, 18 years of age and up is the minimum requirement, however some details will require the guard to be 21 years old or older.
Driver's License
In security work there is often a large amount of driving required, so it is important to have a clean driving record and a driver's license in good standing. Driving assignments can include driving clients to and from a particular location, driving on site for parking lot and perimeter security, and driving company vehicles for various purposes such as protecting cargo or fleets.
PERC Card
Specific to Illinois, security guards are required to have a PERC card license issued by the state. The cost is approximately $55 for the card itself, and candidates will also need to get fingerprinting done (another $55 or so) and a passport style photo will also need to be taken (approximately $10 at your local Walgreens). All in all it is approximately $120 to obtain a PERC card.
Individual applicants do not need a security company to sponsor them for their PERC card application, but rather simply need to complete the application and send in the fee, finger print and photo collateral.
The small blue PERC card is yours to keep and is independent of any company's employment. The PERC card lasts 3 years and allows you to work security in the state of Illinois.
PERC Card Application Time
As is unfortunately the case with most government issued paperwork, the PERC card process can often take up to 6-8 weeks once all paperwork is submitted to receive your card. In some cases it may take up to 12-weeks to receive your card via mail. Some companies in Illinois require you to have your PERC card in-hand prior to hire, but other companies will hire you based on your PERC card license status, available on the IDFPR website. The IDFPR database is available to check license status of a security guard if any employer wishes to do so.
PERC card renewal is approximately $45. To learn more about the PERC card and it's requirements, see the IDFPR website (https://www.idfpr.com/).
Other neighboring states, such as Indiana for example, only require the hiring company to have a fingerprint card on file for their security guards.
Security Guard Training Programs
Many companies offer in-house training, so you may not necessarily need to seek out a training school or certification program. However, it is often advisable to have your own training before applying to a security guard job, as you will have a leg-up on the other applicants who haven't completed their training yet.
Unarmed Security: There are also many security schools and courses available for those who wish to become an unarmed security guard and obtain their license certification. Generally, unarmed security courses are 20-hours of training.
Armed Security: For armed training another 20-hour course is often required. In reality, however, armed security guards are paid more than unarmed security guards, but the vast majority of security guard jobs are for unarmed officers.
How Do I Get into Security Work?
Get into the field of security, move around from job type to type, and be sure to connect with law enforcement and build a strong network. Often security guards are the first eyes and ears who contact the public sector to respond to calls and threats. A good working relationship with the local police department will assist in your application process, make your candidacy stand out in interviews, and will ultimately make your employment duties more effective and safer for everyone.
Our top tips for getting into security work are easy to follow if you are committed to professionalism and the career.
Act professional, look professional, dedicate yourself to the customer service of the profession.
Understand that becoming a security guard is not just about a badge and apprehending bad guys – it's about customer service and providing a professional presence to put guests at ease and discourage crime.
Strive for excellency in guest service, customer service, and team building, and you will find success in the security industry.
Our research and experience shows that many commonalities exist across those charged with hiring for security work. Whether interviewing with a Director of Security for malls, or a contracted agency making hiring, firing, and training decisions for large companies and sites, these areas of need are of utmost importance:
Loss prevention
Armed security for special events
Auxiliary police work
Public & private partnerships
Private security
If you focus your skills to one (or several) of these specific areas, you will stand out as a security guard job applicant.
Entry-Level Security Guard Interview Process
If you want to get into security as a full-time job or a new career, there are certain things to keep in mind during the interview and application process.
Always be energetic and enthusiastic about the security field, and remember that you are representing yourself, selling yourself to the hiring manager. The two biggest things security managers are looking for is a desire to work hard and be dedicated to the job, and the desire to remain professional at all times and offer good customer service to those you interact with on a daily basis. If you can showcase an understanding of these two points, your interview will go well.
Some of the top qualities security officer hiring managers will look for in a candidate are as follows:
Loyal
Trustworthy
Integrity
Willingness to learn
Professional appearance
Enthusiasm for the job
Loyalty, Trustworthiness & Integrity
A character showing loyalty, trustworthiness and integrity is essential to a security guard's role. A candidate must show loyalty to the hiring firm, their process, and procedures, and show that you cannot be corrupted by outside influence over your job. The hiring company is trusting you with the protection and security of people, property, and assets. Integrity is important as you must show your ethical commitment to doing what is right when faced with tough and confrontational situations.
Willingness to Learn
The security industry is changing fast, especially with all the new technologies and efficiencies emerging. Be open to learning to skills and furthering your understanding of technology and it's role in enhancing (not replacing) your job. Those who are entrenched in the "old school" ways will be phased out as new technologies emerge. Strive to understand how these technologies can enhance your job and a hiring manager will take note. Continually demonstrate a hunger for knowledge, reading up on the latest security trends and methodologies outside of work, bringing new ideas to your manager throughout your employment.
Professional Appearance & Enthusiasm for the Job
Any authority figure in a uniform holds a certain power. The respect for the uniform is essential, and your employer must protect that perception. Be sure to get a haircut, shave or trim up any facial hair, wear a wrinkle-free dress shirt, pressed slacks, and scuff-free dress shoes. Sit up straight, give a firm handshake, and look the hiring manager in the eye. Be confident and intentional with your words, and do not fumble or stray off topic. Demonstrate a clear understanding of the role and its expectations which you researched prior to the interview and show eagerness to fulfill that role and its responsibilities. Show enthusiasm for the position and the work you will be doing. The long hours and often monotonous nature of security shifts can be draining to morale, so demonstrate enthusiasm for the position and an understanding that you will work to keep your enthusiasm when in the job.
#1 Security Guard Job Application Tip — Open Shift Availability
When applying and interviewing for a security guard job, be sure to keep an open availability in your preferred work hours, and be open minded to taking the less desirable shifts to get your foot in the door with the security company, as those shifts are the most difficult to staff.
Security guard shifts will vary based on the industry, but many share common themes. For example, when working retail security, afternoons from 3pm until later, especially in the early evenings when people are off work and school are often the busiest. Don't expect to be placed into a 9am-5pm standard shift, especially if this will be your first security guard job. Those shifts go to the security guard veterans who have been in the industry for many years and "earned their stripes". Many retired police officers who now work security will also see preferential selection for those desired shifts. Know that you are new in the field, and be humble and realistic about your seniority.
The midnight and overnight shifts (11am to 7pm or midnight to 8am) are universally the most difficult to cover. New security guard candidates often find the most job hunting success when indicating that they are available and eager to work these difficult hours. After a successful interview and receiving a job offer, work at least 6-months in the position during that overnight shift before requesting transfer to a different (and more desirable) work schedule. You need to prove yourself a dedicated and reliable security guard before openings on more standard shifts will be made available. Weekends are another shift in high demand, especially within the retail sector, which security guard job candidates should mark as available on their applications.
Next Steps to Become a Security Guard
We hope that these tips for security guard training and job interview process lead to a fulfilling and long career in security work. If you are interested in exploring a degree in criminal justice or another security related field, visit this page. A security guard applicant with a degree in criminal justice or a certification from a college or vocational school will stand out leagues above the rest. Good luck, and welcome to the respect and honor of security work!