The Original and #1 Website for Security Guard Training
Online Security Guard Training and Career Center
Welcome to Security Guard Training Headquarters! We have everything you need to make your life easier as you begin your career as a security guard officer. State specific training requirements, a step-by-step hiring process, potential employers and interviews to help you get hired are just some of the helpful things you'll find here.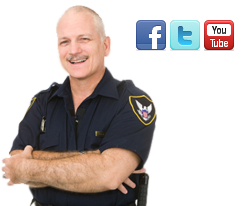 For the most part, a security guard position requires the guard to patrol an area, guard something, or monitor an area to prevent theft or the infraction of rules. The guard may operate a metal detector or x-ray machine. A guard must also prevent and de-escalate violent situations.
How much a security guard position pays partially depends on whether the job requires the person to be armed or unarmed. Other factors include the person's experience, as well as the area of the country and the industry the job is in.
The Average Pay
Bls.gov says that the mean hourly wage in May of 2018 for all types of United States security guard positions was $15.41 per hour. The median wage was $13.70 per hour.
Security Guard Pay by Armed or Unarmed
No guard job will pay anywhere near the worth of a person's life. Like police work, security guard work is the kind of job that is just in a guard's DNA.
Payscale.com puts the average pay for armed guards between $10 and $21 per hour. The same site puts the average for an unarmed guard at $10.81 per hour.
Unarmed guards are used at schools with grades pre-K through 12th grade, where nearly 75 percent of school shootings occur. Shooters know they have a much better chance of leaving the crime scene alive if they are the only armed person.
If you want to be an armed guard in schools where much less violence will be likely, your services will be needed at the places of higher learning.
Security Guard Pay by Experience Level
According to payscale.com, a newbie security guard can expect to earn a respectable $12.86 per hour, on average. After one to four years, security guards make an average of $13.47 per hour. Five to nine years will get a guard just a few more pennies, at $13.72. Ten to 19 years of service will bring a jump in pay to $15.79 per hour. Twenty years will see the pay level out again, paying an average of $15.82 per hour on up to $16.
Security Guard Pay by Location
Take the national averages and calculate the decrease or increase in pay for your region by the following percentages:
Houston, TX (- 15 percent)
Atlanta, GA (+ 5 percent)
Los Angeles, CA (+ 6 percent)
Chicago, IL (+ 7 percent)
Las Vegas, NV (+ 10 percent)
Washington, DC (+ 32 percent)
New York, NY (+ 45 percent)
Security Guard Pay by Industry
Bls.gov puts the hourly mean wage for a security guard working at an elementary or secondary school at $17.16 per hour. This is on the low end of the spectrum, only paying more than investigation/security services and traveler accommodation establishments pay ($14.66 and $15.45 respectively). Natural gas distribution and remediation and other waste management services pay considerably more money per hour ($29.67 and $27.01 respectively), as do several other industries.
Job Security for Security Guards
The part of the job that is uncomfortable is the dangerous part. In some security guard positions, the guard is required to spend a lot of time working alone. Violent situations often stem from escalation of a situation, and guards insert themselves into these situations to de-escalate them. Sometimes overpowering and arresting a person becomes necessary.
Some situations turn violent. According to the Federal Bureau of Investigation, there were 250 shooting incidents in the United States between 2000 and 2017.
There was just one shooting incident in 2000 and 30 incidents in 2017, indicating a clear trend of an increasing number of shooting incidents. That means that as time marches on, there is a much higher likelihood that a security guard will have to respond to an emergency situation.
Over 20 percent of the aforementioned 250 shooting incidents occurred at schools, and 14.8 percent of them occur in the pre-k to 12th grade schools. Because of the escalating number of shootings in schools, security guard positions in schools will be more and more in demand as time goes on.