The Original and #1 Website for Security Guard Training
Online Security Guard Training and Career Center
Welcome to Security Guard Training Headquarters! We have everything you need to make your life easier as you begin your career as a security guard officer. State specific training requirements, a step-by-step hiring process, potential employers and interviews to help you get hired are just some of the helpful things you'll find here.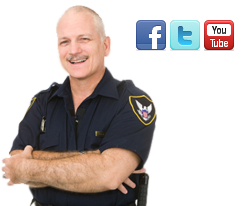 In order to apply for security guard registration in the State of California and work as an unarmed security guard, you must:
Be at least 18 years old
Undergo a criminal history background check through the California Department of Justice (DOJ) and the Federal Bureau of Investigation (FBI); and
Complete a 40-hour course of required training. The training and exam may be administered by any private patrol operator or by a certified training facility.
40 Hour Security Guard Training Requirement
| | |
| --- | --- |
| Prior to Being Assigned on Post | 8 Hours |
| Training Required within the First 30 Days | 16 Hours |
| Training Required within the First Six Months | 16 Hours |
| TOTAL HOURS | 40 HOURS |
EXPEDITE PROCESSING ONLINE
In order to speed up the security guard application and fingerprinting process, the following steps should be followed:
STEP 1
The security guard must have received the eight (8) hour "Power to Arrest " training and passed the examination. Click here to conveniently get training and pass the exam online.
STEP 2
The security guard applicant, private patrol operator or the training facility must submit the security guard application online at http://www.dca.ca.gov/bsis/online_services/online_licensing.shtml. The online application is sent electronically to the Bureau.
Breakdown of fees paid online:
Security Guard Application Fee: $50.00
Online Convenience Fee: $1.00
TOTAL: $51.00
STEP 3
The security guard applicant must submit fingerprints electronically using Live Scan. You must only use the security guard Live Scan forms downloaded from the Bureau's Website or obtained from the Bureau. The Live Scan form from the Bureau contains the correct coding to ensure that the Bureau receives the FBI and DOJ responses.
Breakdown of fees paid at Live Scan site:
Department of Justice Fingerprint Fee: $32.00
Federal Bureau of Investigation Fingerprint Fee: $19.00

TOTAL: $51.00
Live Scan site locations are available at http://www.bsis.ca.gov/forms_pubs/livescan/scansites.shtml
Live Scan forms can be downloaded at http://www.bsis.ca.gov/forms_pubs/livescan/forms.shtml
Note: Live Scan sites may charge a Live Scan submission processing fee. The Bureau does not set the fee amount.
STEP 4
Once the Bureau has received the online application and criminal history clearances, the cleared security guard will appear on the Bureau's Web site. The security guard, private patrol operator or training facility can verify the Bureau's approval by checking the Bureau's "Verify a License" at http://www.bsis.ca.gov/online_services/verify_license.shtml.
Once the security guard registration has been cleared and appears on the Bureau's Web site, a screen-print from the Web site may be made and used as an interim security guard registration. The security guard can then be placed on assignment. The actual security guard registration will be mailed to the applicant and should be received in 10 to 15 business days.
STEP 5
Security guards placed on assignment must keep the following documents with them:
A valid security guard registration or a screen print of the Bureau's approval obtained from the Bureau's Web site.
A valid photo identification
NORMAL PROCESSING
You may also submit your application to the Bureau the traditional way:
Submit your completed security guard application, a $50 registration fee and a Security Guard Live Scan form signed by the Live Scan operator (see above). A $32 DOJ fingerprint processing fee and a $19 FBI fingerprint processing fee must be paid at the Live Scan site.
Send your application package to the Bureau of Security and Investigative Services, P.O. Box 989002, West Sacramento, CA 95798-9002.
Applications for registration as a security guard are available from private patrol operators or training facilities certified by BSIS.