The Original and #1 Website for Security Guard Training
Online Security Guard Training and Career Center
Welcome to Security Guard Training Headquarters! We have everything you need to make your life easier as you begin your career as a security guard officer. State specific training requirements, a step-by-step hiring process, potential employers and interviews to help you get hired are just some of the helpful things you'll find here.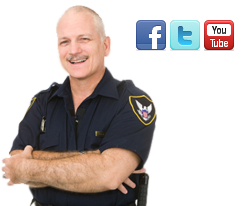 To apply for a firearm permit in the State of California, you must:
Be a U.S. citizen or have permanent legal alien status.
Pass a 14 hour training course in the carrying and use of firearms.
Submit a firearm permit application, pay the $80 application fee, and submit a Security Guard Registration w/Firearm Permit Live Scan form signed by the Live Scan site operator. A $38 Firearm Eligibility application, $32 DOJ fingerprint processing fee and $19 FBI fingerprint processing fee must be paid at the Live Scan site.
The firearm training course is 8 hours of classroom training, and 6 hours on the firing range.
The training course covers the following subjects:
Moral and Legal Aspects
Firearms Terminology
Weapon Handling and Shooting Fundamentals
Emergency Procedures
Range Training
The course must be given by a Bureau-certified firearms training instructor at a Bureau-certified training facility, and you will complete a written and range exam at the end of the course.
Please note that you are allowed to apply for guard registration and a firearm permit at the same time, for a total fee of $219.
You may not carry a gun on duty without having been issued a firearm permit by the Bureau. Also, a firearm permit issued by the Bureau does not authorize you to carry a concealed weapon. You may not carry a concealed weapon on duty without a Concealed Weapons Permit (CCW) issued by local authorities, nor carry a caliber handgun not listed on your firearm permit.
Note: A firearms qualification card expires two years from the date it was issued. An applicant must requalify four times during the life of the permit: twice during the first year after the date of issuance, and twice during the second year. Requalifications must be at least four months apart.
Reference: Security Guard Fact Sheet – Bureau of Security and Investigative Services