The Original and #1 Website for Security Guard Training
Online Security Guard Training and Career Center
Welcome to Security Guard Training Headquarters! We have everything you need to make your life easier as you begin your career as a security guard officer. State specific training requirements, a step-by-step hiring process, potential employers and interviews to help you get hired are just some of the helpful things you'll find here.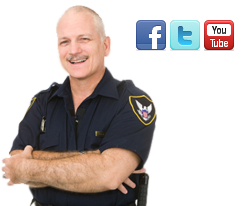 Becoming a security guard in the city of Los Angeles can be an amazing experience. Depending on where you apply (and of course, where you're accepted), you can work in places like the Staples Center, Rodeo Drive, the Convention Center, and any other busy places that need people like you to keep those places safe.
With that said, there are some security guard training requirements that you must first fulfill before you can even become a guard in Los Angeles. Here are the California state-wide requirements outlined for you below:
If you're already an unarmed security guard in the State of California and would like information about becoming an armed guard and holding a firearm while on duty, please click here.
Obtain Your Guard Card
STEP 1
The first thing you must do is collect your Guard Card. This is a permit or license that illustrates that you have passed certain background checks through a fingerprint scanning process.
This is required and there is no exception.
To obtain your Guard Card, you must first complete an 8-hour "Power to Arrest" training course and pass the examination.
This course, which can be done in-person at a certified training facility, or conveniently online. Most people prefer online because it's convenient, but either way you'll have to pay anywhere between $50 and $100 to take this course.
You have 3 attempts to pass the exam (online or in person), and once you successfully complete it you will receive a certificate of completion and LiveScan Fingerprint Forms, which are required for the next step.
STEP 2:
The next step it to take the forms you received from your 8-hour training course, fill them out (all of them – there are 3 copies for different locations) and take them to a local LiveScan provider. Click here to find LiveScan locations near your residence.
At the LiveScan location, you will be fingerprinted.
Please note that there will be a fee of about $60 for this part of the process.
Also, some training facilities and companies will offer a solution for this entire process for you, so please check with them so you can save time and effort.
During this step, the LiveScan provider will fill out the bottom portions of your forms for you, and give you an ATI number, which is needed for the next step.
STEP 3:
In this step, you're going to submit all of the forms on the California State website at the following address (or you could do it via US Mail as well if you wish):
https://www.dca.ca.gov/splash.shtml
Total fees here will run you about $50.
STEP 4:
Here, you're basically just waiting for approval from the state.
You can check your status on the State Bureau of Security and Investigative Services website.
It may take up to 2 to 3 weeks to be approved, after which you will receive your Guard Card in the mail.
Total cost is about $150 at this point.
After You Get Your Guard Card
After you get your card in the mail, you will have to complete 16 more hours of training within the first 30 days after getting hired. The training requirements are mostly "on the job" training requirements and will be handled and explained by your employer.
After that, you'll need to complete an additional 16 hours of training with the first six months after getting hired, which is administered typically again by your employer.
In total, including the 8 hour Power to Arrest training course you needed to get your Guard Card, that's 40 hours of total training.
There are several training facilities online and offline that you can choose from. Please check the job board for possible positions in the Los Angeles area.
Good luck!