The Original and #1 Website for Security Guard Training
Online Security Guard Training and Career Center
Welcome to Security Guard Training Headquarters! We have everything you need to make your life easier as you begin your career as a security guard officer. State specific training requirements, a step-by-step hiring process, potential employers and interviews to help you get hired are just some of the helpful things you'll find here.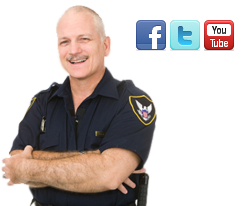 New York City-It's been said if you can make it here you can make it anywhere. You can also 'make it' in the security profession.
The security field can be a rewarding as well as exciting one; you get to deal with people and socially interact with them, you also have the opportunity to make your valuable contribution in protecting this nation's homeland security. On September 11, 2001, the valuable contribution that security officers made to this city changed the image of them forever. Instead of being viewed in a negative, stereotypical light, as many security guards formerly were viewed, as not being "real cops", for instance, people began to sit up and take these professionals seriously.
That attitude is still prevalent; you have an opportunity to learn more about this noble profession and how you can contribute your part to it.
Becoming a Security Guard in NYC
But how does one become a security guard in New York City? What are the requirements? You need to have extensive training in security, which means you will be required to attend a class learning the basics of the security system. You will learn such things as fire safety; what to do if there's a fire and what not to do, in which you will then take a test which upon passing, qualify you to receive a fire protection certificate. You will also be required to take an 8-hour test in security, which is necessary, upon which, after passing a test, you will also receive a certificate noting that you indeed did take such a test.
You will, above all, need a security license, this is requires by law; following the tragic events of September 11, 2001, it is now mandatory that all security guards be licensed.
Even after you are hired, you will need further training, to which you will receive 16 hours of OJT, or On-The-Job-Training; this has to be completed 90 days upon hiring.
Since the security profession is indeed a noble one, you will be expected to conduct yourself in a professional and dignified manner at all times. You need to have good interactive skills, or to be people-friendly; this is definitely not a job for people who have personality issues.
There are many security companies in New York City; many of them start out on a minimum wage basis, but there are some who pay significantly more, based of course, on the level of the security guard's experience and expertise.
The security field-A rewarding one indeed. Hopefully, you'll feel the same way once you've entered it.