The Original and #1 Website for Security Guard Training
Online Security Guard Training and Career Center
Welcome to Security Guard Training Headquarters! We have everything you need to make your life easier as you begin your career as a security guard officer. State specific training requirements, a step-by-step hiring process, potential employers and interviews to help you get hired are just some of the helpful things you'll find here.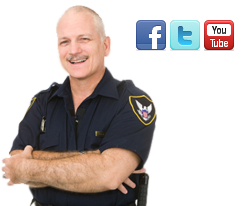 Qualifications for a Security Guard Job
The Bureau of Labor Statistics state that the highest paid security guard positions can be found in the cities in California. San Jose is definitely a viable option for you if you choose to head into this career.
The Basic Prerequisites
However, before you undergo any training, it is best to check if you possess the other qualities that most employers require for this type of job:
Clean bill of health
Applicants for security guard positions are usually screened for contagious and chronic illnesses. There typically is drug testing as well. Be wary of taking certain health supplements as these could sometimes bring about a false positive in drug screenings.
Physically fit
Training will further build on your strength and agility and hone your instincts, but you have to have something to work on to begin with.
Clean criminal record
A high level of trust and considerable authority is placed upon security guards and they must have the moral ascendancy to be worthy of it. You must have a good reputation supported by a clean record, because background checks are quite rigourous and extensive.
If you have issues with any of the qualifications listed above, then this career may not be suitable for you.
What Gives You an Edge
There are some things in your resume that may not be absolutely required for the job, but could give you an edge in anyway. Possessing any of these qualifications would certainly work to your advantage:
Any kind of military and law enforcement experience
Soldiers or police officers sometimes decide to quit their government jobs and start working for the private sector. If you're one of them, and your exit from your previous line of work was honorable and graceful, you would certainly qualify for any security jobs.
Ability to use technology
Technophobes might find it difficult to apply for security positions as not all security is physical. A lot of security jobs involve monitoring and checking which entail the use of electronic gadgets.
First Aid and CPR
Knowledge of what do during a medical emergency would be a huge advantage especially for security guard posts in highly populated areas such as schools, restaurants, and office buildings.
If you're ready to launch into this career. It's time to check out the options in this page and get some basic training and certification out of the way. As you go along your path, you may want to get more specialized training which increases your chances for promotion and advancement.
---
Guard Card Level 1 – $45
Unarmed Security Guard License
8 Hours of Training
---
Guard Card Level 2 and 3 – $199
Unarmed Security Guard License
32 Hours of Training
View Course Info and Registration
---
*More courses coming soon!