The Original and #1 Website for Security Guard Training
Online Security Guard Training and Career Center
Welcome to Security Guard Training Headquarters! We have everything you need to make your life easier as you begin your career as a security guard officer. State specific training requirements, a step-by-step hiring process, potential employers and interviews to help you get hired are just some of the helpful things you'll find here.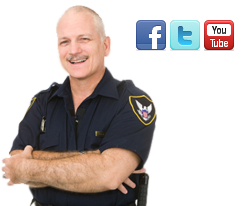 What a Security Guard Job is Like
Before jumping into this line of work, it helps to know what you're going into. What exactly does one do in this job? Knowing what to expect will help you to decide whether this is the career for you or not.
The Duties
A security job is like a policeman, but with the jurisdiction limited to the building, company, department or you were hired to guard. You must know the law, at least those that have any bearing on your duties. In the absence of a properly designated law enforcement officer, you are a representative of the law.
You must also know the rules and policies of your employer as regards to the place of business or event. You would get properly briefed on this, depending on what your assignment is. For example if you are stationed at a door or gate, you would have to follow your employer's rules on who or what gains admittance. You would usually have to check and double check identification, and whether that person seeking entrance should be allowed in. This means you must keep out all other persons or  things that should be kept out, and you shall be trained on how to subdue those who persist or insist on entering.
But door assignments in different places would oftentimes be radically different. A door job at a high-end restaurant would require just a tad more charm and finesse layered over that firmness than if you're guarding the door of a bank, which would entail more brawn and steely resoluteness.
If your assignment is to monitor the feeds from security cameras, then you would be briefed on what to look out for, who are the undesirable persons, what are the undesirable activities. This would be quite the sedentary job which requires more mental acuity and a sharpened instinct, but you must still be able to spring into action should there arise a situation that requires it.
The Hours
A security guard must be ready and alert during the entire shift, that is why that it is ideal that the shift not last for more than 8 hours. You could work up to 48 hours a week if you're going into it full time. However, being security guard also makes for great part-time work if you're a student or have another job.
The Pay
The median pay for a security guard is a little over $24,000 a year. The highest paid ones get as much as $70,000 while those on the other end of the salary spectrum get as little as $17,000 (according to 2013 stats). See more details here.
Training
So, what do you think? If you think this is the right career for you, it may be time for you to get the required training and certifications. Check out the options in this page.
---
D License – $175.00
Unarmed Security Guard License
(40 Hour Course)
Florida Course Information