The Original and #1 Website for Security Guard Training
Online Security Guard Training and Career Center
Welcome to Security Guard Training Headquarters! We have everything you need to make your life easier as you begin your career as a security guard officer. State specific training requirements, a step-by-step hiring process, potential employers and interviews to help you get hired are just some of the helpful things you'll find here.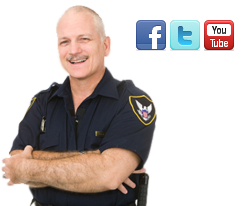 If you have always wanted to be a security guard, or if that is a job that you have recently started to consider for yourself, then you might be wondering what should be done in order to get the job. You might be curious as to what you should be doing to get the attention of the ones who will be interviewing you for the job. If so, then you will want to read through the below tips and follow them carefully.
Five Tips To Help You Get Hired As A Security Guard
Dress neatly. When you are going to your interview make sure that you are wearing something that looks nice and professional. People appreciate that, and it just might get you the job.
Be confident. Don't let the interviewer see you shake. You are going to be guarding their place, after all, and you are going to need to prove to the one who is interviewing you that you have what it takes to do the job well.
Be kind. Even though it is good to be confident, don't be so confident that you are arrogant. Be kind to the one who is interviewing you and show them respect. They will love that, and they will see that you are a good person when you do that.
Prepare what you are going to say ahead of time. Tell them about yourself and why you feel that you are qualified to be a good security guard. Let them know of any achievements that you have made without getting cocky about it.
Be patient. Let the interviewer do the speaking and sit back and hope for the best. As long as you are giving the interview your best, that is all that you can really be doing, anyway.
Follow all of the above tips and you should be able to get the job that you were wanting. You are sure to land the job as a security guard if you are confident, kind and dressing nice. The interviewer will love that, and they will trust you to work for them.