The Original and #1 Website for Security Guard Training
Online Security Guard Training and Career Center
Welcome to Security Guard Training Headquarters! We have everything you need to make your life easier as you begin your career as a security guard officer. State specific training requirements, a step-by-step hiring process, potential employers and interviews to help you get hired are just some of the helpful things you'll find here.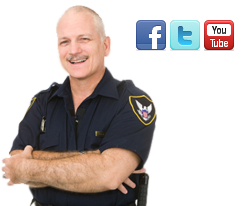 Security positions are perfect for individuals looking for flexible working hours and attention to detail. Candidates range from new entry-level job seekers to former police officers and veterans, and the top cities for this type of employment are listed first.
Here's a tip: when looking for jobs in the security field, look for areas with a high degree of military and government contracts.
Cities Hiring Security Guards Now
The first may come as a bit of surprise: Washington D.C. These jobs are most prevalent for candidates with several years experience. The surrounding area is home to both traditional government buildings, defense-related agencies and subcontractors requiring security.
It may come as no surprise the second most prevalent job market for future security specialists is the Big Apple, New York. The city that never sleeps has a great deal of retail storefronts with particularly high end merchandise. Keep in mind, that like most jobs, many openings are not posted to the major job boards. New York has a layout with high building density, as well as public transport.
Where there is a high degree of crime or unrest, security guards tend to have a higher need. Take the nearby Camden, NJ for instance. Within 25 miles of Camden, one major search engine indicates 5,000+ posted security jobs. Compare this to Green Bay, WI, a city with a population of 104,000 — only 300 related jobs in this field.
A city with similar needs to Camden is Chester, PA outside of the Philadelphia metro area. The large international security firms have many entry-level postings.
While Los Angeles, CA is rough half as populated as NYC, it has the highest population density in the United States, with essentially uncontained opportunities in the city itself and its requisite sprawl. The security positions here are diverse, from retail to warehouse opportunities.
Continuing the theme, Chicago is the heart of security jobs within the greater Midwest. Its central proximity to other rust belt hubs gives opportunities for upwards advancement, with many Fortune 500 companies requiring the services of security guards. Contractors include government, agricultural and maritime.
No list would be complete without Texas. A combination of rapid population growth and staggering economic prowess in almost every sector has given rise to a requisite growth in security guard jobs. Locations to try include Dallas-Ft. Worth and San Antonio, but most metro areas have more openings than qualified applicants.
Of note, cities with former manufacturing pasts often have a high need for security to patrol their abandoned structures. Both Detroit, MI and Saginaw, MI fit these criteria. The last entry rounds out the list as the smallest city discussed, as Saginaw has a population of 50,000+.