The Original and #1 Website for Security Guard Training
Online Security Guard Training and Career Center
Welcome to Security Guard Training Headquarters! We have everything you need to make your life easier as you begin your career as a security guard officer. State specific training requirements, a step-by-step hiring process, potential employers and interviews to help you get hired are just some of the helpful things you'll find here.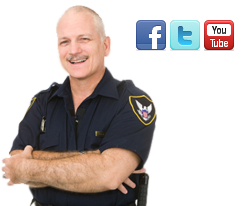 Security guards work in a variety of places and their primary job is to protect people, property, and enforce the law. According to the Bureau of Labor Statistics, most security guards work in investigation and security services, hospitals, elementary and secondary schools, traveler accommodations, and local government. There are many ways a person can become a security guard and each state has their own certification requirements. Once a person makes the decision to become a security guard, they will have to choose a school to be trained, certified, and eventually licensed.
Certificate Programs
The more education a security guard has the more money they can potentially make, but most security firms require a person to at least have a certificate to show that they have had some training before being hired. Certificate programs teach the basics of security, legal responsibilities, crime scene investigation, and ethical conduct. In order to start in a certificate program, a person needs to have a high school diploma or equivalency and they need to either be 18 or 21 years old depending on the program. Many community colleges across the country offer certificate programs in criminal justice, homeland security, law enforcement, and public affairs, and they offer in-class and online instruction.
Associates and Bachelor Degree Programs
If a security guard is looking to increase their income and/or go into management, they will want to get an associates or bachelor's degree. Community colleges offer associates degrees and universities offer bachelor's degrees in similar subjects that one can a certificate in. Typically someone who is already licensed and working as a security guard will look to get a degree in order to advance in their company.
Training
Getting a certificate and going through a degree program is all part of the training a prospective security guard has to go through. If someone doesn't want to go to a traditional college but would like to go to a career college, they need to make sure the school offers a program that meets the requirements that are specific to the state that the school is in. Once a person makes the decision to become a security guard, they will be entering a profession that is growing and their prospects of employment are great.