The Original and #1 Website for Security Guard Training
Online Security Guard Training and Career Center
Welcome to Security Guard Training Headquarters! We have everything you need to make your life easier as you begin your career as a security guard officer. State specific training requirements, a step-by-step hiring process, potential employers and interviews to help you get hired are just some of the helpful things you'll find here.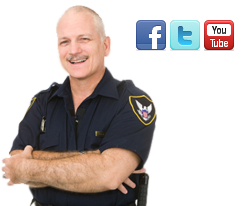 The Different Types of Security Jobs
There's always a market for a security guard. Every single industry in every part of the country would need some form of security and protection. Industrial or hospitality, transportation or communication, entertainment or education, retail or finance — they all have security guards in their payroll. So if you get into this profession, you could pretty much go to anywhere and still manage to find a job.
In addition to basic security guard training, your employer may have you undergo different types of training depending on the industry, and the specific job description you are assigned.
Door Guards
The most common types of security guards that people see are those that guard the entrances of establishments. These guards serve as a barrier between the outside world and the things and people inside. They protect against theft, trespassing, arson, and other forms of trouble and illegal activities. They also implement whatever rules the owners and employers have for the property or place of business.
Patrol Guards
There are also security guards that are stationed not at the door but are constantly mobile. They walk around the halls of buildings, or drive around the perimeter of a property or the streets of a subdivision. They look out for unusual activity and gauge the threat level for them. If need be, they escort trespassers and troublemakers off of the property.
Surveillance Guards
Some guards sit in front of a bank of monitors for most of their shift. The cameras serve as extra pairs of eyes that help them look out for suspicious activities. Establishments such as casinos pay premium for sharp eyes that can catch cheaters in the casino floor.
Armored Car Guards
These guards are tasked to protect precious cargo — usually money or other valuables — while in transit. They are employed by the armored car service provider and not by the business or property owner. These types of guards are armed and specially trained in hand-to-hand combat to defend the vehicle and the cargo within from any threat from the outside.
There you have it, the different types of security guard jobs. Some people think the job is all Commando and Rambo-like, but most of the time it's pretty calm and steady. However, one must always be prepared for action, and this is what all the training prepares you for.
If you're ready to seek training. Check out the links to the different training courses offered in West Palm Beach, Florida.
---
D License – $140.00
Unarmed Security Guard License
(40 Hour Course)
---
G License – $225.00
Statewide Firearms Class
(28 Hour Course)
---