The Original and #1 Website for Security Guard Training
Online Security Guard Training and Career Center
Welcome to Security Guard Training Headquarters! We have everything you need to make your life easier as you begin your career as a security guard officer. State specific training requirements, a step-by-step hiring process, potential employers and interviews to help you get hired are just some of the helpful things you'll find here.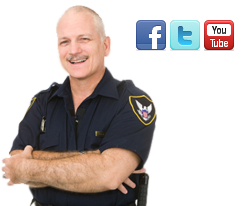 There are many job descriptions for a security guard, but generally it lines up with the following:
Guard, patrol, or monitor premises to prevent theft, violence, or infractions of rules.
A Security Guard is expected to circulate among visitors, patrons and employees to preserve order and protect property. They may be required to use force to apprehend or evict any violators from a premises if warnings are not taken seriously.
What You Must Know Before You Begin Security Guard Training
Some Security Guards must know how to operate detecting devices to screen individuals and prevent passage of prohibited articles into restricted areas. In some cases, Security Guards are expected to be able to drive motor vehicles to escort individuals to specified locations and to provide personal protection.
A Security Guard must inspect and adjust security systems, equipment, and machinery to ensure operational use and to detect evidence of tampering. Some Security Guards drive and guard armored vehicle to transport money and valuables to prevent theft and ensure safe delivery.
A Security Guard must be capable of writing reports about the daily activities and irregularities such as equipment or property damage, theft, presence of unauthorized persons or unusual occurrences. He or she must be well versed in the English Language, able to read and write with proper grammar and spelling.
In addition, many Security Guards are required to have Computer skills – using word processing and spreadsheet programs for database entries.
While on duty, a Security Guard must call the police or fire departments in cases of emergency. Usually, a guard cannot make an official arrest, which is why fast thinking and good communication skills are important when contacting the police or fire department.
A Security Guard is also expected to have knowledge of relevant equipment, policies, procedures, and strategies to promote effective local, state or national security operations for the protection of people, data, property, and institutions.
As mentioned earlier, the Security Guard must have good communication skills since they are working with all different types of people of different ethnic backgrounds, beliefs and understandings. The Security Guard must show great principles and show adequate processes for providing customer and personal services. The Security Guard must provide help for customer needs make assessment of situations, and above all – have a quality of standards for services that he/she provides.
Finally, a Security Guard must have full knowledge of laws, legal codes, court procedures, precedents, government regulations, executive orders, agency rules, and the democratic political process. These things are imperative for a Security Guard to understand, because these rules and regulations are the basis for all proper actions taken as the Security Guard.