The Original and #1 Website for Security Guard Training
Online Security Guard Training and Career Center
Welcome to Security Guard Training Headquarters! We have everything you need to make your life easier as you begin your career as a security guard officer. State specific training requirements, a step-by-step hiring process, potential employers and interviews to help you get hired are just some of the helpful things you'll find here.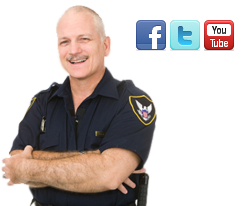 Security Guard Training Headquarters has partnered with a network of schools and services to bring you the best security training programs in the nation. We focus on providing information on Criminal Justice and Law Enforcement programs both online and near you. Security Services is our most popular concentration of study, but other popular programs include Correctional Officer (Prison Officer), Criminal Justice & Law Enforcement/Police, Fire Science, Forensics/Crime Scene Investigation, and Homeland Security.
Fill out the form below with your information to see what Security Services training programs are available online, or in your local area. It only takes a minute to complete the form, and the information is provided for free, with no obligation to register for any educational programs or services.
After completing the form above we will send you more information on Security Services and Law Enforcement training programs near you. There are also many great online training programs available. Our free request form (above) will connect you with top training schools — it only takes a minute. Jumpstart your security career today!
---