The Original and #1 Website for Security Guard Training
Online Security Guard Training and Career Center
Welcome to Security Guard Training Headquarters! We have everything you need to make your life easier as you begin your career as a security guard officer. State specific training requirements, a step-by-step hiring process, potential employers and interviews to help you get hired are just some of the helpful things you'll find here.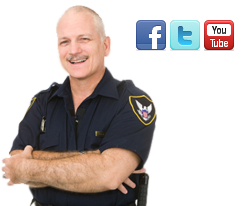 Types of Security Licenses in Texas
There are 2 types of security guard training in the State of Texas: Level II training for an unarmed security officer license, Level III for an armed security officer license. The personal security (i.e. bodyguard) license requires a Level IV training in addition to Levels II and III.
Level II
All security guards, referred to a security officers in Texas are required to undergo a Level II training course, which the state mandates to be at least 6 hours long. Different training academies may design their Level II courses to take longer. However, the content of this course is standard.
Level II training covers the following areas:
Responsibilities and Roles of a Security Officer
Areas of Responsibility
Prevention and Deterrence
Relationship with the Local Police Department
Observation and Report Writing
Authority to Question and Basis for Making Decisions
Training is done in a classroom setting, after which participants will have to undergo testing in order to obtain the Level II license.
Level III
To become an armed security guard in this state requires a minimum of 40 hours of training at an accredited institution. The training is usually broken into 10-hour blocks. This course is more intensive and special attention is given to each section of training. This training involves both lectures, practice sessions. There will be considerable time spent in the firing range with a handgun.
The coverage of the training includes:
Standards of Conduct
Functions of Security Officers
Arrest Authority
Federal and State Laws Pertinent to the Security Officers
Reporting and Paperwork

Field Note Taking
Report Writing

Emergency Situations
Hazardous Materials
Crime Scene Procedures
Witness Interviewing
Tactics

Awareness Skills
Cover and Concealment
Fire Recognition and Response
Bomb Threats
Terrorist Response
Accidents Involving Serious Injury or Harm

Public Relations and Image Perception
Conflict Resolution

Weaponless Strategies
Intermediate Weapons
Five Step Hard Style
Twelve(12) Hours Defensive Tactics
Four(4) Hours of Handcuffing Techniques

Firearms Training and Qualification
Once a trainee passes testing and acquires the license, a yearly requalification course is required in order to keep the license.
Level IV
This training is mandated to take a minimum of 15 hours to earn that personal protection license which includes the authority to carry a concealed firearm.
The course contains additional material on Level III topics and more specialized hand-to-hand defensive tactics.
These trainings may seem to be short, but they provide sufficient groundwork for any security officer to continue to build and improve his or her skills.
---
Level II (Un-armed) – $45
Non-Commission Officer Course
6 Hours of Training
---
Level III (Armed) – $175
Commission Officer Course
40 Hours of Training
---
Level IV (Bodyguard) – $250
Person Protection Officer (PPO) Course
30 Hours of Training
*Must have completed Level III Training to be eligible for this class
---
More courses coming soon!