The Original and #1 Website for Security Guard Training
Online Security Guard Training and Career Center
Welcome to Security Guard Training Headquarters! We have everything you need to make your life easier as you begin your career as a security guard officer. State specific training requirements, a step-by-step hiring process, potential employers and interviews to help you get hired are just some of the helpful things you'll find here.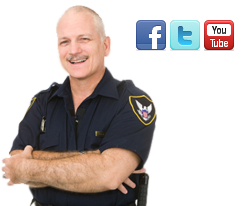 Many people wonder if there are any education requirements necessary before they can become a security guard. Typically, the only education required is a high school diploma, however continued education in a criminal justice or law enforcement field can definitely help.
Many local community colleges offer several courses in criminal justice, legal studies, homeland security and public safety that can help you when you apply for a job or are looking to increase your income. Also, there are a ton of places online that offer similar courses too. It is recommended that you first check with any potential employers before enrolling for any courses to see if they have any recommendations for you.
Besides taking a class, it may be more beneficial for you to decide to take a training course instead, such as an armed guard training course where you would learn how to carry and properly handle a gun, a pepper spray training course, or even a course on using a baton.
These types of courses will definitely help add to your resume and impress any potential employers, since they are directly related to the job that you will be hired for. Specifically, firearm training can be a mandatory requirement for some employers, and usually that means they will pay more.
Although you do have a lot of options, it is understandable if you are still a little confused about what you're supposed to do. There is no right answer and know that in most cases, any education is good education, especially if you are able to learn more about your field of work and potentially become a better security guard as a result. If you really need some help, don't be afraid to ask an experienced security guard what they think you should do.
To conclude, no – it is not absolutely required to go to school in order to become a security guard, however there are definitely benefits if you do, such as an increased wage and an easier time getting hired. Depending on the State that you live in, however, you may be required to take security guard training classes in order to become eligible to seek employment.
See the list of qualifies schools below, featuring Criminal Justice programs and other Security Services and Law Enforcement classes.