The Original and #1 Website for Security Guard Training
Online Security Guard Training and Career Center
Welcome to Security Guard Training Headquarters! We have everything you need to make your life easier as you begin your career as a security guard officer. State specific training requirements, a step-by-step hiring process, potential employers and interviews to help you get hired are just some of the helpful things you'll find here.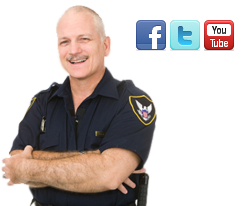 Since late 2010, the State of Alabama Licensing Board has required that anyone seeking employment as a security officer or armed security officer shall complete 8 hours of Board Approved classroom training with a certified trainer before applying for a license.
You will have to pass a written exam related to the course subject matter that you learn during your 8 hours of classroom training.
Many security companies or employers will also include (and/or require additional training on top of the 8 hours that are required by the state to get your license.
Typically, at a minimum, you will usually be required to meet the following criteria:
Must be at least 18 years of age;
No felonies or violent criminal convictions;
Must not have a disqualifying mental illness;
Must be physically fit for the position they are applying for;
A high school diploma, G.E.D., or equivalent certificate.
Additional training is required in order to carry a firearm while on duty. For more information on Gun Laws, visit the Alabama Law Enforcement Agency website.