The Original and #1 Website for Security Guard Training
Online Security Guard Training and Career Center
Welcome to Security Guard Training Headquarters! We have everything you need to make your life easier as you begin your career as a security guard officer. State specific training requirements, a step-by-step hiring process, potential employers and interviews to help you get hired are just some of the helpful things you'll find here.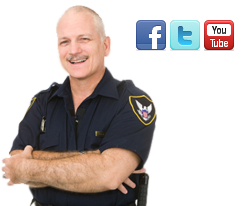 In New Hampshire, an unarmed security guard can fall under different rules. For example, if you hired by a company and are on their payroll, there are no criteria for you to meet. However, if you decide to work for yourself and solicit business as a sole proprietor you do have to meet certain criteria.
Basic requirements for an unarmed security guard in New Hampshire:
Must be at least 18 years old
United States resident
No felony convictions or misdemeanors associated with violence (which includes domestic), drugs ( use or sale), theft or fraud
Provide three references to vouch for your good character
Submit (2) photos taken at the state police office
Submit fingerprint cards (2) taken at the state police office
Must complete all paperwork required by the Division of Licensing at Permits and submit in person
Other Requirements that May Be Helpful:
Driver's License
Good Communication skills
Good physical conditioning
Be able to stand long periods of time
Training and experience:
This area is questionable and may need further clarification once you start the application process. For example, if you are seeking a license to solicit your services as an unarmed security guard you may need to provide proof of at least 4 years experience of related experience.
Fees:
License: $100 (must be renewed every two years)
Other fees may be applicable
For more information, please see Support Services Bureau Permits and Licensing Unit Security/Detectives or call 603-223-3873 for application. Apply in person at:
Division of Licenses and Permits
New Hampshire Department of Safety
James H. Hayes Building
33 Hazen Dr.,
Concord, NH 03305
---