The Original and #1 Website for Security Guard Training
Online Security Guard Training and Career Center
Welcome to Security Guard Training Headquarters! We have everything you need to make your life easier as you begin your career as a security guard officer. State specific training requirements, a step-by-step hiring process, potential employers and interviews to help you get hired are just some of the helpful things you'll find here.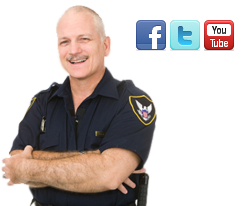 In the state of Ohio, unarmed security guards are required to registered but not licensed if guard is an employee of a licensed security company. It is the responsibility of the licensed company to ensure that all employees are registered within seven business days of hire. Registration renewal required annually. The basic requirements that may be required from the hiring company is as follows:
Basic requirements for an unarmed security guard in Ohio:
Must be at least 18 years old
United States citizen or resident alien
May require proof of high school diploma or equivalent
No felony convictions or misdemeanors associated with violence (which includes domestic), drugs (use or sale), theft or fraud
Good moral character
Successfully pass a background check
No mental disorders or defects that will prohibit performance of duties
Employed by a private security company and under supervision from a licensed patrol officer
Fingerprint card
Other Requirements that May Be Helpful:
Driver's License
Good Communication skills
Good physical conditioning
Be able to stand long periods of time
Fees: All fees are non-refundable
For more information, please see Ohio Dept of Public Safety Laws & Rules or call (614) 466-4130. Application and other information can be found on the Dept. of Public Safety website.