The Original and #1 Website for Security Guard Training
Online Security Guard Training and Career Center
Welcome to Security Guard Training Headquarters! We have everything you need to make your life easier as you begin your career as a security guard officer. State specific training requirements, a step-by-step hiring process, potential employers and interviews to help you get hired are just some of the helpful things you'll find here.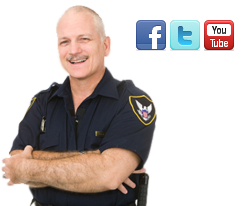 The Connecticut's Department of Public Safety is in charge of registering and overseeing security guards in the state of Connecticut.
Your first step is to apply to become a security guard at the company of your choice. Before you can begin work as a security guard, however, you must first obtain a Security Officer Certification Identification Card.
To get your card, you must:
Be at least 18 years of age
Never have been previously convicted of a felony
Be of good moral character
Complete an 8-hour training course by an approved instructor
As mentioned on the Department of Public Safety website, Applicants for Security Officer Certification Identification Card must complete a course of instruction approved by the Commissioner of Public Safety, at their expense. The course is offered by private instructors and involves classroom criminal justice training. Upon completion of the course, the instructor signs off on the reverse side of the application form DPS 135-C. The application form and fingerprints are then submitted to the Special License and Firearms Unit. The Security Officer card is good for 2 years unless suspended or revoked."
After you finish your security guard training and get the proper forms from your instructor, your employer is responsible for making sure that you become registered. Here is a list of instructors who are approved by the Commissioner of Public Safety:
Approved Security Officer Certification Instructors
The cost of obtaining the certification card is $100.00.
There is an additional cost for fingerprint cards (State & FBI) which are required to do a background check. Two Cashiers Checks or Money Orders in the amount of $ 50.00 and $19.25 shall be made payable to the Department of Public Safety.
Your employer should have a form to fill out for registration, however if they do not have a copy (they really should), you can download it from the Department of Public Safety website.
Further Information and Resources for Connecticut Security Guards
See Chapter 534 of the Private Detectives And Security Services found here.
If you wish to become an Armed Security Officer, see the Connecticut State Pistol Permit.