The Original and #1 Website for Security Guard Training
Online Security Guard Training and Career Center
Welcome to Security Guard Training Headquarters! We have everything you need to make your life easier as you begin your career as a security guard officer. State specific training requirements, a step-by-step hiring process, potential employers and interviews to help you get hired are just some of the helpful things you'll find here.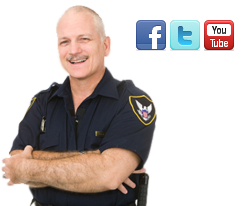 To become an unarmed security guard in Georgia, no license is required. However, potential applicant must meet other qualifications, which includes 24 hours of classroom training.
In addition, potential applicant must meet other basic qualifications.
Basic Requirements:
Must be at least 18 year old
Must be a United States citizen or registered resident alien
High school diploma or equivalent
Have good moral character
No felony convictions or any crime involving the illegal use of weapons
Have not committed any acts of fraud
Drug testing (which may be ongoing)
Other Requirements that May Be Helpful:
Driver's License
Good physical conditioning
Be able to stand long periods of time
Good Communication skills
Basic Training Curriculum for Security Officers in Georgia
A basic training course consisting of at least 24-hours class instruction must be successfully completed. This course can be given by the potential employer or may be taken as a standalone class.
Curriculum may include but not limited to the following subjects:
Role of Private Security
Legal Aspects
Patrol and Observation
Incident Response
Security Resources: Surveillance operation and documentation
Customer Service Issues: Working with and addressing the public
First Aid Overview
Please note: If training isn't offered by potential employer, stand alone courses may require a fee.
For more information, please call 478=207-2440, see the Georgia Board of Private Detective & Security Agencies Application for Employee Registration Form or visit the main Georgia Board of Private Detective & Security Agencies licensing page here.