The Original and #1 Website for Security Guard Training
Online Security Guard Training and Career Center
Welcome to Security Guard Training Headquarters! We have everything you need to make your life easier as you begin your career as a security guard officer. State specific training requirements, a step-by-step hiring process, potential employers and interviews to help you get hired are just some of the helpful things you'll find here.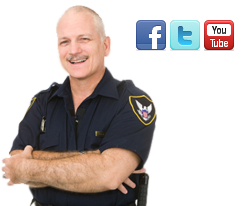 In order to work as a security guard in the state of Nevada, you must first obtain your registration card from the State of Nevada's Private Investigators Licensing Board.
No training is required before you apply for your registration card, however there is an exam that you must take and submit with your application. All of the training you will receive will be directly from the private security company or other establishment that you get hired to work for, once again, after you obtain your registration card.
You can obtain your registration card online, or via regular mail.
Your first step is to download the application from the Private Investigators Licensing Board site here. When you arrive on the website, click on Work Cards / Registered Employee Services at the top:
To apply online, simply scroll down until you see Online Application:
You can also check the status of your application, and renew your registration here as well.
If you'd rather apply via traditional mail, you can download the application on the top of the left hand sidebar of the same page.
Other Items
Along with your application, you will have to submit a few more items in order to obtain your card. There is a very handy checklist (see Instructions / Checklist on the left hand sidebar), that  you can use to make sure you have everything in order. So you will know what to expect, this is what you need:
The completed application (online or printed out)
A 2 inch by 2 inch (2″ x 2″) passport photo.
If you were not born in the U.S., you must also provide a photo copy of one of the following:

Naturalization Certificate
U.S. Passport
U.S. Birth Certificate
Alien Card

Your U.S. Passport or a copy of both your driver's license and social security card.
Receipt for Electronic Submission of Fingerprint Cards or a set of 2 fingerprint cards.
Registration fee of $85.00 if you have a fingerprint receipt, $95 if you are submitting the set of 2 fingerprint cards.
Your exam answer sheet with your application. (Unless you take the exam online on eht same website).
Depending on the load of the licensing board, it may take up to 10 days to be able to be approved and begin working as a security guard, from the time they receive your application.