The Original and #1 Website for Security Guard Training
Online Security Guard Training and Career Center
Welcome to Security Guard Training Headquarters! We have everything you need to make your life easier as you begin your career as a security guard officer. State specific training requirements, a step-by-step hiring process, potential employers and interviews to help you get hired are just some of the helpful things you'll find here.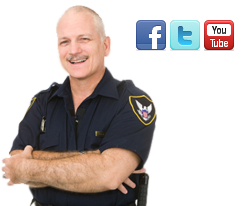 In the State of Colorado, an unarmed security guard must be licensed for as long as he or she is employed as a security guard. The City Clerk's office handles the application.
In order to qualify for an unarmed security guard license the following requirements must be met:
Must be at least 18 year old
Must be a resident of Colorado
Must be a United States citizen or registered resident alien
Must have a valid Colorado driver's license or state ID card
A valid social security card
Must provide a medical certificate (within 60 days of filing the security guard application) stating you are physically capable of performing the duties of a security guard. Only a physician, nurse practitioner or physician assistant certified by the Colorado State Board of Medical Examiners can administer this certificate.
Proof of background check, within 30 days after filing the security guard application, from the CBI or other recognized source
If expected to carry a nightstick, mace or knife applicant must show proof of compliance of the local regulations; there are specific rules as to the length of blade and nightstick in most municipalities. See the Denver Firearm and Weapons Related Statutes found here for more information.
In addition, the use of mace is allowed based on these specific regulations.
Other Requirements that May Be Helpful:
Driver's License
High School diploma or equivalent
Good Communication skills
For more information, please visit Denver Business Licensing Center Security Guard information page or call 311 (or 720-913-1311 if outside Denver).