The Original and #1 Website for Security Guard Training
Online Security Guard Training and Career Center
Welcome to Security Guard Training Headquarters! We have everything you need to make your life easier as you begin your career as a security guard officer. State specific training requirements, a step-by-step hiring process, potential employers and interviews to help you get hired are just some of the helpful things you'll find here.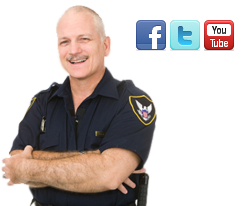 Registration and license is required in Tennessee for an unarmed security guard. In order to be registered, there are certain criteria that you must meet. An unarmed guard registration is renewed every two years.
Basic requirements for unarmed security guards in Tennessee:
Must be at least 18 years old
Must show proof of citizenship
Mentally competent
Have good moral Character
No drug or alcohol use or dependence
No convictions in the last 5 years and that includes being on probation
No disabilities that would prevent performance of duty
Submit fingerprint cards (3) for background check from bother TBI and FBI
Successful complete training requirements
Other Requirements that May Be Helpful:
Driver's License
Good Communication skills
Good physical conditioning
Be able to stand long periods of time
Training Requirements
Four-hour course, one hour training for each:
Orientation
Legal aspects and limitations
Emergency procedures
Duty requirements
Note: If carrying a stun gun, mace, or nightstick, you must receive training from a certified instructor. Upon completion of training, a certificate card of completion must be carried at all times.
Fees are nonrefundable:
Application fee: $50.00
License: $20
For more information, please review the Tennessee Private Protective Services Suggested Training Curriculum Outline or call (615) 741-6382.