The Original and #1 Website for Security Guard Training
Online Security Guard Training and Career Center
Welcome to Security Guard Training Headquarters! We have everything you need to make your life easier as you begin your career as a security guard officer. State specific training requirements, a step-by-step hiring process, potential employers and interviews to help you get hired are just some of the helpful things you'll find here.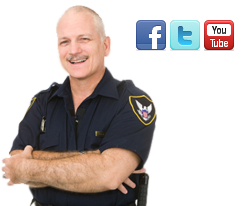 At present, Kentucky does not have a licensing policy in place for unarmed security guards at the state level. However, there may be some requirements on the city and county levels in which case you must contact the local City Clerk's office. In addition, the company that is hiring you may have basic criteria that you must meet as well.
Standard requirements across state lines:
Must be at least 18 years old
High School diploma or equivalent
No felony convictions or any crime involving the illegal use of weapons
Other Requirements that May Be Helpful:
Driver's License
Good Communication skills
Good physical conditioning
Be able to stand long periods of time
For more information, please call Kentucky State Police at 502-782-1800 or visit the Think Kentucky website.