The Original and #1 Website for Security Guard Training
Online Security Guard Training and Career Center
Welcome to Security Guard Training Headquarters! We have everything you need to make your life easier as you begin your career as a security guard officer. State specific training requirements, a step-by-step hiring process, potential employers and interviews to help you get hired are just some of the helpful things you'll find here.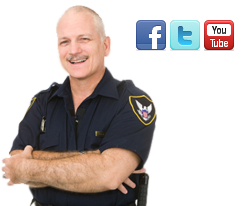 In West Virginia, a registration is required for unarmed security guards. The West Virginia Secretary of State's office makes the regulations regarding licensing. There are certain criteria that must be met before a license will be approved.
Basic requirements for unarmed security guards in West Virginia:
Be at least 18 years old
Must be a United States citizen or legal alien
Have good moral character
Never been denied a license or had one revoked in West Virginia
Mentally competent
No drug or alcohol use or dependence or distribution
Must successfully pass a drug test
No felony convictions
No history of assisting an inmate escape
No history of buying or selling stolen property
No disabilities that would prevent performance of duty
Submit to criminal background check
Successfully complete 18 hours of required training
Training Curriculum:
Certain training may be required by the company that hires you. Useful training would include:
Role of Private Security
Legal Aspects
Patrol and Observation
Incident Response
Security Resources: Surveillance operation and documentation
Customer Service Issues: Working with and addressing the public
First Aid Overview
Report Writing
For more information, please read the eligibility requirements for unarmed security guards in West Virginia. Private Investigator and Security Guard Licensing Information is available on the WV Secretary of State website. See also the West Virginia Code for Private Investigative and Security Services as found here.