The Original and #1 Website for Security Guard Training
Online Security Guard Training and Career Center
Welcome to Security Guard Training Headquarters! We have everything you need to make your life easier as you begin your career as a security guard officer. State specific training requirements, a step-by-step hiring process, potential employers and interviews to help you get hired are just some of the helpful things you'll find here.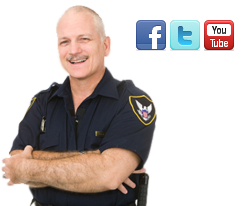 In order to earn your security guard license in the State of Alaska, you must:
Be a United States citizen or resident alien
Be at least 18 years old
Neither addicted to or dependent on alcohol or drugs
Be without a conviction of a felony within 10 years before the date of application
Be emotionally and mentally stable
Complete an 8-hour pre-assignment security guard training course
Complete an additional 40 hours of in-service training within 180 days of employment
After you complete your 8-hour pre-assignment course, you then can fill out an application to become a guard. Applications are available online at the Public & Safety Statewide Services Permits and Licensing Unit website. (See New Guard Application)
The application will require the following information:
Full name;
Residence address;
Social security number;
Residence telephone number;
Present or prospective employer and address;
Age;
Sex;
Date of birth;
Place of birth;
Height and weight;
Hair and eye color;
Residence addresses for the past five years;
Employment for the past five years;
Three character references;
Military discharge record, if any;
Criminal arrest and conviction record;
An affirmation that the applicant is neither addicted to nor dependent on alcohol, narcotics, or other drugs;
An affirmation that the applicant is not suffering from any psychopathic condition or mental illness impairing the powers of memory, reason, judgment, or perception.
The application must be signed by the applicant and the signature must be notarized.
The following items must also accompany the application:
One frontal view photograph of the applicant; the photograph must include the upper part of the body from the waist up; it must have been taken within the 30 days before submission; and be of a size, color, and condition that will allow the photograph to be processed in the department's identification production equipment;
Two sets of classifiable fingerprints;
Proof of bonding or insurance; and
A non-refundable application fee of $50 and the fees required for fingerprint processing, which as of 2010 are $54.25.
Again, you can access the actual application here.
Security Guard Training
As mentioned earlier, you will be required to take an 8-hour pre-assignment (before you get hired) training course, before you can even apply. An additional 40 hours are required within 180 days after employment (after you get hired) as well.
The training must include, but is not limited to:
Law of arrest;
Law of search and seizure;
Duties and responsibilities to the employer and client;
Fire prevention;
First aid; and
Patrol techniques.
Finally, realize that all security guards must pass an annual refresher course of at least 8 hours on the above topics. Failure to pass the refresher course may be grounds for removal and dismissal of a security guard license.