The Original and #1 Website for Security Guard Training
Online Security Guard Training and Career Center
Welcome to Security Guard Training Headquarters! We have everything you need to make your life easier as you begin your career as a security guard officer. State specific training requirements, a step-by-step hiring process, potential employers and interviews to help you get hired are just some of the helpful things you'll find here.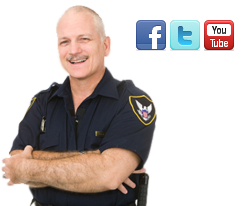 In Pennsylvania, a license is required for unarmed security guards. The process is rather detailed. An applicant or hiring company must petition the court for the license. The County Clerk's office is limited to the questions they can answer about this process and recommends that an attorney be retained for such matters.
Basic requirements to submit petition for unarmed security guards in Pennsylvania:
Must file a petition with the following attachments:
Passport photos (2)
Letters from character witnesses pointing out your good moral character
Certified proof of criminal background check
Fingerprint card with fee (this card must be submitted to the County Clerk's office with a money order that will be mailed to the Pennsylvania State police)
Statewide requirements that may be helpful in getting Petition Approved:
Be at least 18 years old
Citizenship
Mentally competent
Have good moral character
No drug or alcohol use or dependence
No felony convictions
No disabilities that would prevent performance of duty
Training Requirements
In Pennsylvania, there are no set rules as to the type of training or experience required. It is ultimately up to the judge.
Fees are nonrefundable:
Fingerprint card: $17.50 (money order must be made out to the Pennsylvania State Police)
License: $200 (This fee is paid only if petition is approved)
For more information, please read Promulgation of Local Rules of Civil Procedure; No. 6513 CV 2005 or call the Pennsylvania County Clerk's office at 570-517-3387.