The Original and #1 Website for Security Guard Training
Online Security Guard Training and Career Center
Welcome to Security Guard Training Headquarters! We have everything you need to make your life easier as you begin your career as a security guard officer. State specific training requirements, a step-by-step hiring process, potential employers and interviews to help you get hired are just some of the helpful things you'll find here.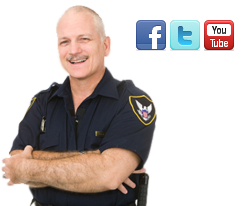 In Virginia, a registration is required for unarmed security guards. The Virginia Department of Criminal Justice makes the regulations regarding licensing. There are certain criteria that must be met before a license will be approved. The hiring company is responsible for submitting the application.
Basic requirements for unarmed security guards in Virginia:
Be at least 18 years old
Finger print cards
Mentally competent
No drug or alcohol use or dependence
Must successfully pass a drug test
No felony convictions
No disabilities that would prevent performance of duty
Submit to criminal background check
Successfully complete 18 hours of required training
Training Curriculum:
A basic training must be conducted by a board-approved instructor. Topics may include but is not limited to the following:
Orientation – 2 hours

Laws and Regulations
Code of Ethics
Role and Responsibilities

Law – 4 hours
Security Patrol, Access Control, and Communications – 2 hours
Writing reports – 4 hours
Emergency Procedures – 4 hours
Confrontation Management – 2 hours
Fees:
Registration: $25 Click here for application
Fingerprinting: $50 Click here for application
For more information, please consult the Unarmed Security Guard Requirements in Virginia or call 804-786-4700.