The Original and #1 Website for Security Guard Training
Online Security Guard Training and Career Center
Welcome to Security Guard Training Headquarters! We have everything you need to make your life easier as you begin your career as a security guard officer. State specific training requirements, a step-by-step hiring process, potential employers and interviews to help you get hired are just some of the helpful things you'll find here.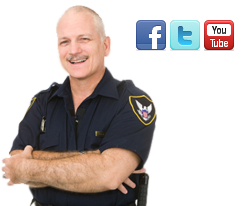 Security guard training is not required before you apply for an unarmed security guard position in the state of Arizona. However, if you are offered employment and you require a license, you will need to complete an 8-hour pre-assignment training course.
Depending on where you are offered a position, you may or may not need to get license.
You must be licensed if you will be working for a security guard agency that pays you to provide security guard services to other companies.
You do not need to be licensed if you will be working for a proprietary company, meaning, the company pays you directly to be their own security guard.
If you require a license, know that you are not allowed to wear a security guard uniform or stand post as a Security Guard until you get your license from the Arizona Department of Public Safety-Licensing Unit.
To obtain your Arizona security license, you can easily follow the 7 steps outlined below:
First, get offered employed by a Department of Public Safety Licensed Security Guard Agency. They will fill out and sign the Employer section (Part A) of the registration application, which you can download here.
Complete and sign the Employee section (Part B) of the registration application.
Submit your fingerprints for a criminal history check. For more information about fingerprint submission, you can visit the fingerprints section of the DPS Licensing Unit. They are always available at the Licensing Unit office and many be available at police stations or at other companies listed as "Fingerprinters" in a phone book or directory.
Submit a color photograph of your face.
Complete the 8 hour pre-assignment training course.
Submit the training verification, signed and dated by the agency.
Pay a $74 fee (cash, money order, company or cashier's check only – payable to The Arizona Department of Public Safety). This covers both your $50 licensing fee, as well as the $24 fingerprint processing fee.
The Security Guard Training Program
The 8-hour pre-assignment training program will consist of training on the following material:
Criminal Law & Laws of Arrest
Uniform & Grooming
Communications
Use of Force
General Security Guard Procedures
Crime Scene Preservation & First Response
Ethics
Emergency Response Procedures
After you complete your training, you must have your agency (the company that you will be working for as a licensed security guard), complete the Security Guard Training Verification Form.
Arizona Department of Public Safety Security Guard Application Forms