The Original and #1 Website for Security Guard Training
Online Security Guard Training and Career Center
Welcome to Security Guard Training Headquarters! We have everything you need to make your life easier as you begin your career as a security guard officer. State specific training requirements, a step-by-step hiring process, potential employers and interviews to help you get hired are just some of the helpful things you'll find here.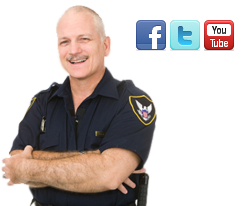 Registration with the State of New Jersey through the Superintendent is required before you can be employed as, or perform the functions and activities of a security officer.
An application can be filled out and filed on this security guard application form, where you will be then required to, under oath, provide:
Your name, residence and age which must be at least 18 years
Previous employers for the last 5 years
Confirmation that you have not been convicted of any disqualifying crimes or offenses through a routine background check via fingerprints.
Apply for Security Officer Certification:
Click here to start your application. View the Security Officer Application in the yellow box to the right.
After your application is approved by the Superintendent, you will have to complete the required training program for the state of New Jersey. This training is mandatory and again you cannot be employed until it is completed.
Please note that there is a non-refundable $75.00 fee, which can be paid online via Visa or Mastercard. There will be additional fingerprinting fees as outlined later in this article.
Getting Your Fingerprints
In order to properly get your fingerprints processed for your criminal background check, you must print the SAGEM MORPHO fingerprint form and 30 Day Temporary Certificate from your online application.
After you print this information, you will have to make an appointment to get your fingerprints taken. You can make this appointment online at www.bioapplicant.com/nj.
Security Officer Training
Currently, you must complete an approved 24-hour course of classroom instruction taught by a certified security officer instructor.
To give you an idea of what will be covered in the course, below are the topics covered:
Homeland security and counter-terrorism
Communications/emergency response
Theft prevention
Limits on the use of force
Detention of suspects
Ethics and professional conduct
First aid/CPR/AED
There may be other topics covered.
To find an instructor, after you print out your forms in your online application, click on the link to browse the Security Officer Instructor Registry.
Security Officer Official Rules and Regulations for New Jersey
SORA FAQs- http://www.state.nj.us/njsp/info/pdf/pdet/sora-faq.pdf