The Original and #1 Website for Security Guard Training
Online Security Guard Training and Career Center
Welcome to Security Guard Training Headquarters! We have everything you need to make your life easier as you begin your career as a security guard officer. State specific training requirements, a step-by-step hiring process, potential employers and interviews to help you get hired are just some of the helpful things you'll find here.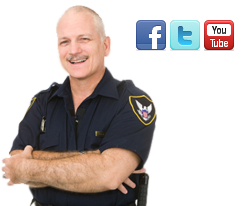 Registration with the State of New Jersey through the Superintendent is required before you can be employed as, or perform the functions and activities of a security officer.
An application can be filled out and filed on this security guard application form, where you will be then required to, under oath, provide:
Your name, residence and age which must be at least 18 years
Previous employers for the last 5 years
Confirmation that you have not been convicted of any disqualifying crimes or offenses through a routine background check via fingerprints.
Apply for Security Officer Certification:
Click here to start your application. View the Security Officer Application in the yellow box to the right.
After your application is approved by the Superintendent, you will have to complete the required training program for the state of New Jersey. This training is mandatory and again you cannot be employed until it is completed.
Please note that there is a non-refundable $75.00 fee, which can be paid online via Visa or Mastercard. There will be additional fingerprinting fees as outlined later in this article.
Getting Your Fingerprints
In order to properly get your fingerprints processed for your criminal background check, you must print the SAGEM MORPHO fingerprint form and 30 Day Temporary Certificate from your online application.
After you print this information, you will have to make an appointment to get your fingerprints taken. You can make this appointment online at www.bioapplicant.com/nj.
Security Officer Training
Currently, you must complete an approved 24-hour course of classroom instruction taught by a certified security officer instructor.
To give you an idea of what will be covered in the course, below are the topics covered:
Homeland security and counter-terrorism
Communications/emergency response
Theft prevention
Limits on the use of force
Detention of suspects
Ethics and professional conduct
First aid/CPR/AED
There may be other topics covered.
To find an instructor, after you print out your forms in your online application, click on the link to browse the Security Officer Instructor Registry.
Security Officer Official Rules and Regulations for New Jersey
SORA FAQs – https://www.state.nj.us/njsp/info/pdf/pdet/sora-faq.pdf
What You Learn in Security Guard Training
Before applying for a security guard post, you should have gone through some basic training. This page can help you with finding training centers in New Jersey. Before you begin, though, it might be helpful to have an idea of what to expect during the course.
Overview
Different states have different laws regarding the particulars of training and licensing. In New Jersey, all security officers are required to undergo SORA (Security Officer Registration Act) Training which consists of a total of 24 hours.
Power to Arrest
The introduction goes into an overview of the roles and responsibilities of security guards, and the mandate and authority given them, which includes the power to question, search and even arrest. Most programs go right into the serious stuff and go into the legal responsibilities and liabilities that they have, and inculcating ethics and conduct. There may be slight differences between state laws so they would have to learn the particularities of the state they would work in.
Public Relations
There usually is a module on PR and probably some social graces, which make a lot of sense since security guards are usually at the front lines and represent their employer to the public. They are the face of the company that they work for, and thus make a lot of first impressions, so they would have to learn tread that line between firmness and pleasantness, remaining calm and courteous but authoritative at all times when relating customers, especially the difficult ones.
Internal Communication
It is rare that a security guard works alone. Bigger companies with more ground to cover need more guards in their security team to provide them what they require. And any team, whether a sports team, a marketing team, or a security team, needs an efficient channel of communication. A module of communication teaches guards how to communicate with each other, using standard gestures, radio or more sophisticated technology.
Reporting
Would-be security guards would also be trained in reporting, documentation and other procedures, as the job does involve some paperwork, although most that would now normally not involve much paper at all and would be filed and stored electronically.
Crowd Control
Even when the job is at a remote warehouse with very little traffic, situations could change and escalate very quickly, and security guards must be prepared to be able to handle big groups of people.
Use of Force
Though not all security guard jobs require carrying a gun, there must be some sort of weapon included in the uniform. Every guard must be able to handle one, and use it with a modicum of skill. Guards are trained on the legal aspects of carrying a weapon, safety procedures, and weapon maintenance.
There are a lot of things to learn about becoming a security guard. Basic training, though far from comprehensive, actually covers a lot of ground. The company that hires them would train them further on the particularities of their security needs.
Top 10 Cities for Security Guard Training in New Jersey:
Newark, Essex, NJ
Jersey City, Hudson, NJ
Paterson, Passaic, NJ
Elizabeth, Union, NJ
Edison, Middlesex, NJ
Woodbridge Township, Middlesex, NJ
Lakewood Township, Ocean, NJ
Toms River, Ocean, NJ
Hamilton Township, Mercer, NJ
Trenton, Mercer, NJ
More security training courses and cities coming soon!
---