The Original and #1 Website for Security Guard Training
Online Security Guard Training and Career Center
Welcome to Security Guard Training Headquarters! We have everything you need to make your life easier as you begin your career as a security guard officer. State specific training requirements, a step-by-step hiring process, potential employers and interviews to help you get hired are just some of the helpful things you'll find here.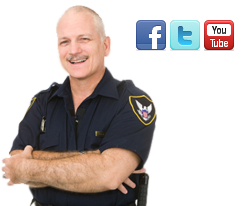 To become a licensed security guard in the state of Texas, you must first complete the Level II Training Course and Test.
All commissioned and non-commissioned (armed and unarmed) security officers must go through this training. The training must be taken at a licensed school and taught by a licensed instructor.
To become a commissioned (armed) security officer, you must complete the Level II and Level III Training. If you are interested in becoming a Personal Protection Officer (bodyguard), this requires you to complete the Level IV Training courses. All of these courses and the next available training class can be found via this form.
The Texas Department of Public Safety, Private Security Bureau (PSB) regulates the private security industry in the state of Texas.
The Licensing section of the PSB handles all applications for a registration.
You must first be employed or be in the process of being employed by a licensed Private Security Company before you can apply.

After you are employed, you have two options to submit your application to the PSB:
1. You can manually send in your application and all required supplemental documents by mailing your complete application package to the following address:
Texas Department of Public Safety
Private Security Bureau
5806 Guadalupe, Building I
Austin, Texas 78752
-OR-
2. You can visit the PSB website and apply for your application online. This will allow you to complete your basic application online, pay the associated fees online, and schedule an electronic fingerprint appointment, which is necessary to do a background check.
Please note that when you apply online, you will still need to manually send in any supplemental forms (such as your fingerprinting forms and forms from your employer), however after you fill out your online application there will be a list of supplemental documents that you can use as a checklist.
After all forms have been properly submitted, it will take approximately 4-6 weeks to get your individual registration.
Your registration expires every 2 years from the date of issue, in which case you'd have to renew, which can be done online as well.
For more information, please see this licensing FAQ.
Also see security guard training and testing information in Texas.