The Original and #1 Website for Security Guard Training
Online Security Guard Training and Career Center
Welcome to Security Guard Training Headquarters! We have everything you need to make your life easier as you begin your career as a security guard officer. State specific training requirements, a step-by-step hiring process, potential employers and interviews to help you get hired are just some of the helpful things you'll find here.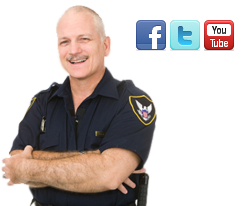 SORA Course Information and Registration
SORA Class – $185 (includes FREE textbook, $25 value)
24 Hours of Training (3 days, 8 hours each)
8:30AM-5:30pm on  SATURDAY, SUNDAY and the following SATURDAY!
Must possess 30 day Temporary Certificate (click here for details)
Register for the Next Upcoming Classes Below
(The available dates below mark the START date of the class. The course will be given on Saturday, Sunday, and the following Saturday. Select the Saturday you would like to start and make sure you can attend all THREE days of the class).
YOU MUST ATTEND ALL THREE DAYS FOR CERTIFICATION. Please register and pay for class on-line, and plan to arrive at least 15 -20 minutes before class starts to ensure timely check-in.
The course includes instruction in:
Homeland Security and Counter Terrorism
Communications/Emergency Response
Theft prevention and deterrence
Limits on The Use of Force
Detention of suspects
First Aid, CPR & AED
Ethics and Professional Conduct
Terrorism Awareness
New Jersey's Critical Infrastructure Awareness
Suspicious Letters and Packages
Suicide bombs, improvised explosive devices and Vehicle borne IEDs (VBIED's)
Incident Command System – Communications/Emergency Response
Fire Prevention
Report Writing
Street Gangs
Brief History of Security
Press Relations
Requirements to take this class:
Must be 18+
High school diploma or equivalent
No criminal felony record (must pass a fingerprint check)
Must possess "30 day Temporary Certificate of Registration as a Security Officer"
Please note: the 3 SORA Steps must be completed within 30 days!
Register and obtain your 30 day Temporary Certificate (click here for details)
Complete the 24-hour SORA Training course (dates available above)
Get your fingerprints processed with the state licensed agency.
It doesn't matter whether you take the class first or get fingerprinted first, as long as you complete both within the 30 day window.  We suggest you make the fingerprint appointment as soon as you get your temporary certificate, since appointments fill up quickly.