The Original and #1 Website for Security Guard Training
Online Security Guard Training and Career Center
Welcome to Security Guard Training Headquarters! We have everything you need to make your life easier as you begin your career as a security guard officer. State specific training requirements, a step-by-step hiring process, potential employers and interviews to help you get hired are just some of the helpful things you'll find here.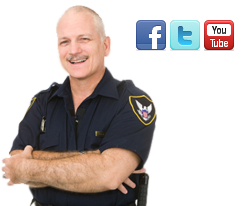 Completing SIA training will open up hundreds of career opportunities for you in the United Kingdom security guard jobs world. Its not an easy task, and takes a bit of commitment to security training courses. But with SIA security training complete and a little experience, you'll be on your way to nailing one of the top paying security guard jobs in London or any other city.
In UK, you will need to have completed SIA training before you can start looking for any security officer jobs in London or throughout the country. As a certified door supervisor, you may work in a residential or commercial area, as well as for specific people/organizations. In this article, you'll learn about important information you need to know if you wish to take this career path in the United Kingdom. Recognize that there's a whole different host of requirements for different countries, and while your experience will go with you, the official SIA course certification will not.
A Quick Run Down of Door Supervisor Jobs
As mentioned, the job is basically to protect premises, properties and people. Depending on the company or individual you will be working for, your security guard jobs responsibilities may vary. However, it often requires guarding buildings or places from unauthorized entry, break-ins or damages. You also need to protect properties from being stolen or damaged. When it comes to people, you may work for one or more individuals and secure them from being hurt, assaulted or injured by anyone. Body guard jobs UK can pay very well if you connect with the right clients! Controlling crowd to ensure that an event runs smoothly is another role that you may take as a security officer.
Types of Security Guard Jobs
Security guards work in different settings and they have various responsibilities. Here are the types of jobs that you may work in as a security
personnel in the UK:
Personal Security Guards. As the term suggests, these guards provide security services to a specific person. They go wherever the person goes and ensure that the client is protected from any harm that may come his way. Celebrities, politicians and elite businessmen usually have personal security staffs that are armed to protect them in case of emergency.
Corporate Security Guards. These guards can be employed to secure offices, malls, hospitals, airports and other business structures. They should always be vigilant to determine possible threat and eliminate them to keep the premises, properties and people secured.
Residential Security Guards. Security personnel may work on residential areas, such as homes, apartments, home for the aged, subdivisions, etc. Aside from keeping the premises and properties safe, they should also ensure the safety of the families. They often patrol around the area to make sure that there are no threats.
Mobile Security Guards. Mobile security guards patrol around certain areas. They move or drive around to find any suspicious activities or individuals that may put the safety of people and premises in jeopardy.
Door Supervisor. This is the most typical of all security officer jobs in the UK. Your role as an SIA door supervisor will be to simply regulate who comes in and out of a specific entrance. This sometimes also overlaps with general property and personnel security, depending on the client.
Static Security Guards. Static security guards stay in one place to do their job. For instance, guards who check bags and belongings at the entrance of the mall or airport are static security guards. Those who monitor security cameras are another example.
Crowd Control. One of the more intense SIA security jobs are the ones where you're hired to control the crowd in various events. Whether it's a small or big event, it's vital for organizers to hire personnel with the proper security guard training to ensure that everything runs smoothly. Smaller events may need fewer staff (but these staff still need proper security certification), while bigger ones would require more security personnel (big events have no exceptions for hiring without the right security courses). When there are guards around, people are more likely to act properly, and there are even certain body language techniques you'll learn in your security training courses.
Become Certified for Door Supervisor Jobs in the UK
To become a door supervisor or security personnel in the UK, there are various requirements that to be met. There are no academic requirements, although employers prefer those who have attained at least a high school diploma or equivalent education. In saying this, its always a good idea to continually further your education when working as a security guard.
You need to have a Security Industry Authority (SIA) license before you can legally work as security personnel. You are qualified to get an SIA license if you're at least 18 years old, you're eligible to work in the UK, have passed criminal records and identity check, and of course if you've completed the SIA courses. This might seem like a hefty list, but there are loads of SIA jobs out there, and the industry is only growing.
You may take your training or course at any SIA accredited training center, college, and even online. The training may take up to 26 hours and is divided into different pieces including the door supervisor course. You'll need to pass a test on each part in order to get the certificate. Some of the topics included in the training are personal safety, communication skills, diffusing conflict, fire safety, patrolling, security responsibilities, procedures, as well as the law. SIA does not provide security guard training. However, as mentioned, they have approved training providers that could help you become prepared in acquiring the license and start working as a security guard. Aside from the SIA license that you can use for the specific activities that you wish to perform, there are also other licenses that you need to get in case you're working on other security roles, including vehicle removal and clamping, door supervision, close protection work, security van guarding and CCTV operation.
There are also various skills and qualities that you should have to become a great security guard. You must be fit and healthy since you need physical strength to protect your client in case of an unlikely situation. Physical fitness might be tested in your door supervisor training, but its not something they provide you training for. Alertness and quick decision making are also a must to quickly determine any potential threats and stop them before they have a chance to erupt. Being authoritative would ensure that people would listen to you and follow your orders. Honesty and trustworthiness are also important traits – the security and protection of people and properties is in your hands.
Here's a short video clip of the SIA security school, and how they deliver training
SIA Course Licensing in the UK
There are two types of licensing that SIA provides; the front line security license and the non-front line security license. Before performing licensable activities, such as CCTV monitoring, door supervision and close protection, a front line security license is required. Supervising and managing people who perform licensable activities require non-front line security license. There are also licenses that can be used for performing other licensable activities, so you may not need to get a separate license for every activity. Here are the licenses available and the type of activities covered.
Security Training Licenses that Guarantee Work:
Front line security license. Security guarding, public space surveillance for protecting property and identifying trespasser, key holding and non-front line.
Front line door supervisor license. Door supervision, security guarding, public space surveillance for protecting property and identifying trespasser, key holding and non-front line.
Front line close protection license. Close protection, door supervision, security guarding, public space surveillance for protecting property and identifying trespasser, key holding and non-front line.
SIA Jobs and Other Security Roles:
Front line cash & valuables in transit license. Cash and valuables in transit, key holding and non-front line.
Front line public space surveillance license. Public space surveillance to monitor the activities of a member of the public, identify a specific person or a trespasser, protecting the property, key holding and non-front line.
Front line vehicle immobilizer license. Vehicle immobilizing, key holding and non-front line.
Key holder license. Key holding and non-front line.
Non-front line license in any sector. Key holding and non-front line.
It's important to determine what type of activities you would like to perform as a security personnel to ensure that you obtain the required license. If general security guarding is your main focus, a front line security license would be enough. However, if you wish to perform the other activities mentioned that are not covered by the said license, you need to get an additional license to legally perform them.
SIA Training Courses Costs

Once you have passed the required training and you meet the requirements, you may apply for an SIA license that costs £220, which would last for three years. The fee is non-refundable and will be used for processing your application. This must be paid fully paid and submitted together with your application form. UK registered credit and debit cards, as well as cheques coming from a bank account in UK are accepted if you're sending a paper application. UK registered credit and debit cards and cash on the other hand, are accepted if completing your license application at the post office.
Need a renewal? not a problem – you'll get a 50% discount on your second license. Majority of applications are processed within 25 working days and this starts the moment your application is entered to the SIA system. However, if the form was incorrectly or not completely filled, the application form will be sent back to you. This is also true if there are missing documents required.
As of August 2014, 89% of the applications were processed within 25 working days. Make sure that you fill up the form properly and completely; and that you send in the required papers so you can get your license as soon as possible and get to work.
Average Salary of an SIA Door Supervisor
One of the things that you may want to know if planning to work as a security guard in the UK, is the salary earned. The pay depends from one region to another, as well as the company or employer. For instance,security guard jobs in London typically pay the highest salary as there is high demand for security services. Of course, bigger companies tend to offer better salary than small to medium businesses. However, on average, you could earn from £7.00 – £12.00 an hour. Working hours can be anywhere from 20 to 48 hours or more per week, depending on the role or contract.
With that you're well on your way to gaining the experience needed to get the best security officer jobs in London. Hit the gym now to better your chances of nailing the best jobs, and good luck!
For more information on security guard salaries in the UK for different positions, visit this page.