The Original and #1 Website for Security Guard Training
Online Security Guard Training and Career Center
Welcome to Security Guard Training Headquarters! We have everything you need to make your life easier as you begin your career as a security guard officer. State specific training requirements, a step-by-step hiring process, potential employers and interviews to help you get hired are just some of the helpful things you'll find here.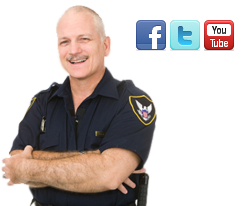 In a previous security guard resume post the objectives and skill sets were talked about. It's vital to include those in your security guard resume, but experience and education are also important. Some wonder why they need to include this information in their resume. One of the main reasons is that it gives the potential employer more insight into how you can benefit their company. Here are areas to include in your security guard resume:
Education
The reason most people get an education is to get a better paying position later down the reason. They also go to school to work in a field that they love and want to spend the rest of their life doing. Those of you who wish to get a security job may need to show that you have spent some time getting an education. If you do have an education, then you probably want to know how to include it in your resume.
If you have just graduated from college, then you will want to be specific about the degree and its location:
New Jersey College — Newark, New Jersey
BS in Economics, Minor in Psychology, June 1992
Those who have finished high school classes, but no college classes will still want to make sure that information is on their resume. Most experts will tell you to remove the high school credentials if you went onto graduate or attend college. It's collective information that you have to graduate high school in order to attend college.
Experience
Experience is one of the most important details on your security guard resume. Some potential employers look at experience more so than education. It really depends on the job and where you are applying. Work history is important to include as well because that is where you got most of your security guard experience. Most employers are not interested in a job description, but they do want to know how you helped the company. Remember a company is interested in hiring you as their security guard because you will be an asset to their company.
Legibility
On a resume, one of the number one mistakes is trying to sound super professional. Make sure your resume is easy to read with the proper font and font size. This helps the person reading your resume. You want to have a healthy balance between sounding like a real person and a professional.
Conclusion
These are great tips to make sure you have the best security guard resume possible for the next position you apply for. Keep it simple, but also be original. Remember, employers read hundreds of resumes each week. Will yours be the one that stands out?