The Original and #1 Website for Security Guard Training
Online Security Guard Training and Career Center
Welcome to Security Guard Training Headquarters! We have everything you need to make your life easier as you begin your career as a security guard officer. State specific training requirements, a step-by-step hiring process, potential employers and interviews to help you get hired are just some of the helpful things you'll find here.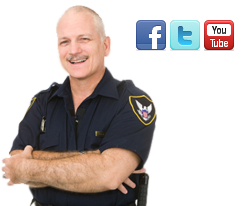 If you are interested in finding a security guard position, you will want to have the best resume possible. When applying for security guard jobs the resume process is a little different than just applying for any old job. The potential employer wants to know specifics about your experience and how you can benefit their company. Those who choose to write their own resume will want to include the following in their security guard resume:
Include the Objective:
Some people have no idea as to why objectives are included in resumes. This part of the resume actually has a specific purpose, especially for those applying for a security guard position. An objective tells the potential employer that you have a goal in mind. Also, it's wise to do a custom objective for each security guard position you apply for. Here is an example objective that you may use on your resume.
Seeking a security guard position with XYZ Company, where I can maximize my experience and education in this field.
As you can see, an objective is very simply, but shows the employer that you have goals in mind when it comes to utilizing your skills.
Include the Skills:
You have spent many minutes, months, and years working as a security guard and gaining many different skill sets. Depending on which security job you are applying for different skill sets will come in handy. For example: A security company is seeking a security guard who has management skills. If you have previous management experience as a skill, then that is something you will want to mention on your resume. The skills section is your section to show off and shine.
Be Concise and To the Point
When a security guard position is being filled there are hundreds of resumes for management to look over. One key point to include in your resume is to always be concise and to the point. Some job seekers fill their resume with irrelevant information that only clutters the page. Be intentional with every piece of information you are placing on your resume, especially with your objectives and skill sets.
Ask for a Second Opinion
Did you write your resume or have someone else complete it for you? Always have a second person look it over for mistakes and errors. You can look at your resume 5,000 times and miss the same mistake. That is why having someone else look over your resume can help save you a bit of embarrassment and help keep you on the job scoring path.