The Original and #1 Website for Security Guard Training
Online Security Guard Training and Career Center
Welcome to Security Guard Training Headquarters! We have everything you need to make your life easier as you begin your career as a security guard officer. State specific training requirements, a step-by-step hiring process, potential employers and interviews to help you get hired are just some of the helpful things you'll find here.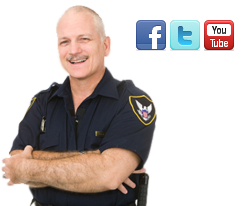 A good job is something that everyone wants. It's a big deal these days, because the economy is not doing well. That's why you have to stand out from the pack. An excellent field to explore is hospital security jobs.
Hospital security can include many different skill sets. Security is a major worry for any kind of public organization, however hospitals as well as various other medical facilities present organizers with a distinct challenge. Beyond the ethical responsibility to keep patients as well as personnel safe, the wealth of costly medical equipment and potentially dangerous medicines also places medical centers at an increased threat of theft.
Thus reliability in a hospital safety and security officer is paramount. A requirement for this type of job is to have perfect attendance. When companies are looking to lay off workers they often times look at attendance. They'd rather not pay benefits to the no-shows, so they will be first to go. By showing up every day you protect your own wallet in the long run.
If you are between jobs, make the most of this time. Instead of allowing yourself to feel bored and distressed, take the initiative to become more productive. For example, you might volunteer with a local adult literacy program, teach senior citizens about Medicare coverage or lead workshops at a center for small businesses. While volunteering as a security guard at a hospital is not likely, you may be able to volunteer at a hospital in reception and get to know the security staff. You will gain valuable experience, preserve your sanity and possibly expand your network.
Before you even apply for a job, be sure that your resume is as up-to-date as possible. List any past job that you can think of, as trivial as a job may seem. The more experience you have in a specific industry, the more likely you are to land a job. Certain useful skills for hospital security would include: technical skills with computers, physical abilities to perform security as well as soft skills for dealing with the public and professional staff of the hospital.
Unlike technological skills, which are about an individual's skill set and their capability to execute a particular type of job or activity, soft skills speak to an individual's capability to communicate successfully with coworkers as well as patients. Soft skills (or sometimes referred to as people skills) in the security staff are crucial in all systems including complicated tasks. This is even more essential for healthcare facility security workers which invariably communicate with wide variety of patients and their attendants while operating in open systems such as hospitals. This ends up being much more essential during disaster management when criminals take advantage of the situation.
If you are going to use someone as a reference for a job, make sure you give them the heads up. You don't want to have a potential employer give someone a call, and they are not expecting it. This increases the likelihood that they will say something that could be damaging.
While it is nice to have connections, remember that you should never think that someone else will get a job for you. You are your own best representative. Work hard to make your dreams happen. If you sit back and hope things will fall into place, they probably will not.
Speak with your friends and acquaintances from college to see if you can leverage off of your contact list to find a job. You will be surprised just how far the branch extends with the people that you know to all of the companies that are in your line of work.
Register for unemployment immediately upon learning you will not have a job. Don't wait for your last day on the job or until your severance ends. The sooner you sign up, the more likely you will be approved and the quicker your benefits will begin.
When you are creating a resume, try to include some of the key words that the job you are applying to is looking for. Sometimes, companies will weed out resumes based on these words, as it is a very easy way to get the call for an interview through your resume.
When submitting a resume to a potential employer, always submit a full resume. A tactic used by many people to cover up negative areas of employment is to write the cover letter in lieu of an actual resume. Most human resource professionals have seen this and will red flag any potential job seeker immediately. If you are doing this and wondering why you are not getting any interviews, this is probably the reason.
One of the things to understand when you are job hunting is that there will be a lot of disappointments. If you understand this, you will be in a good position to get back on your feet and stay persistent if you do not land the job. Eventually, your dedication and drive will pay off.
Get to the interview 10 minutes before the appointed time. This will help you center yourself before the interview and show you're serious about the position. There is absolutely no reason for you to be even 5 minutes late. If you are late, have a really good explanation ready before you let the interview continue.
If you have managerial or supervisory experience, you may be tempted to include testimonials solely from higher-ups. This is excellent information, but you can take it further by including feedback from your subordinates. Hiring managers look for candidates who can connect and build rapport with employees at all levels of an organization.
Older job seekers are well advised to learn all about the latest technologies. If you are asked to e mail your resume, you don't want to be at a loss as to how to do it! Get online and learn about e mail, social media and more. Practice e mailing your resume as an attachment. E mail it to yourself and make sure it comes through well and is readable.
Keep an open mind when trying to find a new job. Not only apply for the specific position you are looking for, but jobs that are related to that position as well. You might not end up landing the exact position you were looking for, but it will give you an opportunity to get into a company where you can transfer positions down the road.
Keep a positive attitude foremost in your mind! Once you've given up, it can only get worse! If you're more positive, you'll also perform well in interviews. Do everything you can to remain smiling and upbeat, and with time, you absolutely will find a job.
Before going to a job interview, make sure that you get plenty of interviewing practice. Many job seekers go to an interview and don't know what to say or how to act, which can harm their chances of obtaining the position. To combat this, you should practice ahead of time. Eliminating the chances of forgetting important details, poor phrasing, or awkward body language can really increase your odds of getting the position.
After reading the tips in this article, you should feel more confident about your ability to really show your worth to any employer. If you use the tips here, you're going to be able to show your skills and get the job you want. Take your time and really apply these tips and a job is sure to come your way.