The Original and #1 Website for Security Guard Training
Online Security Guard Training and Career Center
Welcome to Security Guard Training Headquarters! We have everything you need to make your life easier as you begin your career as a security guard officer. State specific training requirements, a step-by-step hiring process, potential employers and interviews to help you get hired are just some of the helpful things you'll find here.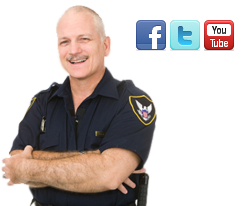 Every state's security guard test is just a little bit different. And, while there aren't necessarily 50 ways to study for your security guard exam, there are at least four main ways. Which is the right study method for you? In this post, we'll weigh the pros and cons of the most popular study methods.
Choosing the Right Security Guard Exam Study Method
There are four main ways to prepare for your security guard exam. Unless your employer is paying for the whole thing, chances are the actual method of study is up to you. In some cases, these methods can even be combined. Ultimately, your best choice for success depends on how you learn.
Self-Paced Courses are great if you're looking for maximum flexibility and the most control of your schedule. If you're self-disciplined, these can be an effective way to learn course material. Auditory learners will do best if at least portions of the material are recorded (or if they record it themselves).
Study Groups offer an interactive learning atmosphere and a more stimulative approach to study. If you're easily bored, group study may help you focus. There's also a greater accountability than with self-paced courses; your group will encourage you to stick to the plan and the schedule.
Classes are a good choice if you want to have it all – an experienced instructor, an interactive environment, and a quality curriculum. Both visual and auditory learners benefit from classroom sessions. The downside? A firm commitment in terms of time, and an expensive commitment in terms of cash.
Study Guides are best for either the experienced security guard – perhaps one looking to relicense – or when used in conjunction with another method. A budget-friendly alternative to paying for a full classroom course could be to combine a study guide with a good practice test.
Are Security Guard Practice Tests A One-Size-Fits All Study Solution?
The majority of people who use a security guard practice test are satisfied with the results. No matter what method you choose, a good practice exam will familiarize you with the test itself; it's a valuable way to measure your progress and mark areas that need extra attention.
In combination with your best study method, a security guard practice test will help you prepare for your licensing exam. Being well prepared will settle your nerves and a give you a much greater chance of success!