The Original and #1 Website for Security Guard Training
Online Security Guard Training and Career Center
Welcome to Security Guard Training Headquarters! We have everything you need to make your life easier as you begin your career as a security guard officer. State specific training requirements, a step-by-step hiring process, potential employers and interviews to help you get hired are just some of the helpful things you'll find here.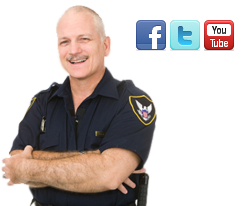 There are many jobs that will make getting insurance necessary and being a security guard is one of them. Insurance will prevent you from being financially responsible to individuals or to companies when you are working in a high risk job. Without the proper insurance you could be responsible for paying for things that you cannot afford and that are not under your control.
Although there are other jobs that have a higher risk than security guards, there are still risks that come with this career. Some of those risks might include encounters with aggressive people and insurance will protect you should you come across those types of people. While these incidences might not be the norm on your job, they do happen and you should be prepared if they do, otherwise you will be responsible to cover the costs out of your own pocket.
One of the most basic components you should look for in an insurance policy for security guards is liability coverage. There are two types of liability coverage. General or comprehensive liability coverage protects both companies and individuals from any accusations of negligence or actual negligence. Incidences that occur as a result of an honest mistake are covered by professional liability coverage.
Insurance for security guards should also cover vehicles if you need to use a car or other motorized transportation for patrolling the area that you are responsible for. The insurance should cover damage to vehicles and any accident that could cause an injury to the people in the vehicle.
Security guards should make sure their insurance policy covers a few other things, too. It should cover medical bills, false arrests, libel, protection from property damage, and protection against assault and battery. Some security guard jobs, like mall security, might not seem like they are very dangerous, but unexpected things can happen and it is best to be covered just in case.
To make sure that you get the insurance policy that best suits your needs as a security guard, take the time needed to do your research. Ask lots of questions to ensure that you get the answers you are looking for. You can ask the company that you work for if they have a suggested provider that their staff can rely on. If you have the right security guard insurance you can relax, knowing that you will be covered in case of accidents or other incidences that may occur.