The Original and #1 Website for Security Guard Training
Online Security Guard Training and Career Center
Welcome to Security Guard Training Headquarters! We have everything you need to make your life easier as you begin your career as a security guard officer. State specific training requirements, a step-by-step hiring process, potential employers and interviews to help you get hired are just some of the helpful things you'll find here.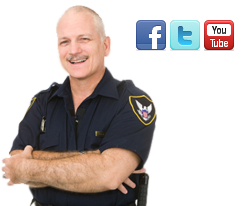 As you start your quest for information about working in the security guard industry, you'll quickly learn that there are many different types of security guard jobs. It is important that you learn about each type of position in order to find a security job that is right for you. Even within the same type of security guard position, your specific job responsibilities could vary from one employer to another. It is not only very important that you learn about the different types of security jobs, you must also read each job description in detail to make sure you are a good fit for the specific company you are considering applying at.
One of the first things you should know is that there are public and private security guards. The majority of security officers are private employees that work for a firm that provides security personnel to numerous types of businesses, or you could work for the business directly. Public security officers are police officers, detectives and sheriffs. Since most people don't consider police officers as security guards, so this article focuses on the different types of private security positions.
One of the most obvious types of security guard jobs are the positions in places like malls, banks, stores, schools, and airports, where security guards protect the business and the general public against theft, destruction, or other types of harmful activities. Security officers are also posted at art galleries and museums to protect against robberies. There are also security positions in court houses, libraries, or other similar types of buildings. If you are looking for something a little more dangerous, you might enjoy being an armored car security officer. Or if you like a lot of action, consider becoming a surveillance agent, which is a security officer that works in the Casino industry. Security officers also provide protection for VIP's like a actors, musicians, professional athletes, and politicians.
The responsibilities of a security guard also differ from one security job to another, even within the same company. Some security guards may be required to patrol parking lots, while others will be stationed in a special room in order to watch television monitors connected to various security cameras throughout the premises. Some security jobs require the officer to drive a security vehicle that looks similar to a police car, ride on a special golf cart, a Segway machine, or may have a particular route that must be walked. Security officers that work during the day when a business is open will have different responsibilities than an officer working at night at the same company.
Some of the things you'll want to look at when researching specific companies to apply for a security guard job is the dress code, whether the position is for daytime or nighttime hours, if it is an office setting or if the position entails crowd control situations. Also determine if the job entails the use of monitoring equipment, if the position requires employees to drive security vehicles, and if the company prefers security officers that are licensed to carry a firearm. These are all important things to consider when determining if a specific security guard position is right for you. For example, don't apply for a company that requires their guards to carry a gun if you don't have a license to do so.
Being a security guard is a very rewarding position but in order to truly enjoy your work, you must find a compatible company to work for. With a little research you'll find the perfect type of security job for you.