The Original and #1 Website for Security Guard Training
Online Security Guard Training and Career Center
Welcome to Security Guard Training Headquarters! We have everything you need to make your life easier as you begin your career as a security guard officer. State specific training requirements, a step-by-step hiring process, potential employers and interviews to help you get hired are just some of the helpful things you'll find here.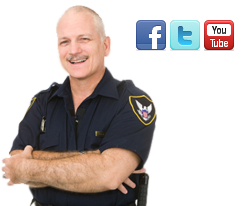 Security guards have a tough job. They are in charge of the safety of people and property and those are big shoes to fill. Of course some of the best equipment security guards need is naturally attached. Some of that equipment includes sharp vision and a brain to think quickly with. For those of you who are interested in a security job, you might find the following pieces of equipment helpful:
The Right Footwear
No one can stand on their feet for hours without the right type of footwear. Your employer might require you to where a certain type of footwear, but if they do not then you will want to go with the best quality and comfort available. In case you need to chase someone down, you do not want to have really heavy work boots. Picking out the right pair of shoes will not only help you feel more comfortable, but they will also make you look more professional as well.
Comfortable Clothing
As a security guard you may be asked to wear a special uniform. However, if you can choose your own then you will want to go for comfort. Lightweight clothing always helps you to feel more comfortable. You may spend a lot of time standing outside or riding around in a vehicle. In order to choose the right clothing you will want to know where you'll be spending the most time. You also want to dress professionally because this is a serious job and you want people to take you seriously.
Various Tools
A security guard will come into contact with some interesting situations. If you work late at night, you will want to be prepared with a very durable flashlight. A lot of security guards where belts to help them hold their tools as well. Picking out the right security guard belt might be a challenge, depending on your height and weight. Other tools you might consider carrying with you would be a pen and piece of paper to write down notes. A cell phone or walkie-talkie is also necessary in case you run into some trouble.
Conclusion
The truth is that as a security guard, you will have a very challenging job. You want to have the right tools so that you are prepared in any circumstance. The company you choose to work for might provide various tools for you or you might be required to purchase them on your own.