The Original and #1 Website for Security Guard Training
Online Security Guard Training and Career Center
Welcome to Security Guard Training Headquarters! We have everything you need to make your life easier as you begin your career as a security guard officer. State specific training requirements, a step-by-step hiring process, potential employers and interviews to help you get hired are just some of the helpful things you'll find here.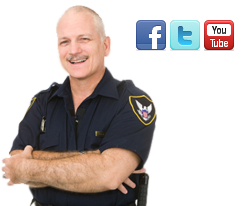 Wackenhut Security: An Overview
Wackenhut Security is a household name in international security services. The name, however, is currently not in use anymore. In 2002, founder George Wackenhut sold his company to Group 4 Falk, a large security corporation working out of Denmark. The new business name, G4S Wackenhut, was again changed in 2010 to G4S Secure Solutions (USA), under which the company currently operates. Its headquarters are based in Jupiter, FL.
Ever since its foundation in 1954, the Wackenhut corporation has established a large market presence in the United States. The company also branched out towards setting up private correctional facilities under the name Wackenhut Corrections Corporation. This has further expanded and strengthened the company's reputation, as it was one of the first firms to do so.
G4S Secure Solutions currently employs over 50,000 people in the US and Canada. This makes it one of the biggest players in the private security market, with plenty of job opportunities and a stable outlook for the future.
The corporation puts a particular strong emphasis on its distinct culture and values. Both Wackenhut Services Inc and its Danish parent company were founded over 60 years ago, and because of this G4S Secure Solutions is very proud of its history. The main values it promotes are:
Customer Focus: A trusting, close relationship with the customer is everything and will work to benefits both G4S and the client
Expertise: As a innovator in the field, G4S keeps working on developing and demonstrating its expertise to provide the best solution for each individual client
Performance: The company works hard to better itself each day
Best People: Inspire, educate and employ the best people for the job
Integrity: Clients can feel comfortable and at ease to trust G4S at every moment and situation
Teamwork & Collaboration: The company is greater than the sum of its parts
Safety: No compromises in relation to the safety and well-being of its workers
Finding Wackenhut Security Jobs
If you are considering applying to one of the Wackenhut jobs that regularly open up, keep in mind the current company name and specifics. You will be applying at G4S Secure Solutions (USA). As is custom in the private security industry, candidates are thoroughly screened and assessed to establish their experience, competencies and talents.
G4S currently offers its clients three different types of security officers. It is recommended to study these types and know which fits your background and strengths.
Custom Protection Officer (CPO): You will need either a college or university education in a crime or security related field, or be an experienced employee of law enforcement, the military, the military police, a correctional facility, a federal agency, or military elite forces.
Upscale Security Officer (USO): Requirements are more stringent, with an associate's or bachelor's degree needed. In addition, you will need solid working experience, preferably in the military, as a manager, peace officer, park ranger or police cadet.
Property Resource Officer (PRO): This role is geared towards experienced professionals with a solid security, fire, life or safety-related work background. Professional personal presentation and very good communication skills are of the utmost importance. You must also meet one of the educational or work experience criteria, like an associate's degree and military or police experience.
G4S Secure Services prides itself on its involvement with military veterans. About a quarter of its employees in the United States are veterans of the military. The company has won several accolades and awards for its military outreach programs. It has been honored by the White House for its commitment to the Joining Forces Campaign, which is geared towards employing returning Defense personnel and their families.
Job opportunities are normally comprehensively listed on the company's website. You will be able to find listings for employment opportunities in USA as well as abroad.
G4S Wackenhut experiences
To get a feel for the company, we have researched a number of employee reviews that will give you an idea of some of the pros and cons of working at G4S Secure Services.
The interview process at G4S is considered to be rather easy. Some of the questions being asked and you should prepare for:
What is your ideal work place environment?
What do you look most for in a job?
Why did you leave your last employer?
Why are you interested in the job?
One applicant mentions the job is more about your personality and ability to interact with customers than it is about written skills. Also, they mention you have to make sure your application and resume are 100% correct and honest. G4S does extensive background checks, and will rigorously investigate every single letter. A drug test is also part of the hiring process.
When asked about the pros of working for G4S Security Solutions, many employees mentioned the following:
There were plenty of opportunities to work overtime if the employee wanted
In general, there is plenty of work, as it is one of the biggest private security companies in the world
The training, salary and people are all good
Exciting job
They do have insurance
Lots of hours
The work is rather easy if you have common sense
Meeting a lot of veterans
Opportunity to move up in the company
Of course, every company has it weaker points. Some of the negatives mentioned about working at G4S Secure Solutions that were recorded from employees were:
Difficult to keep the work life balance because of the hours
Low pay and no raises
Poor upper level supervision
Communication between the management and colleagues in the field is not always optimal
For more in-depth information about G4S, you can visit their website. Job opportunities can also be found there, and the website is extensive enough to be able to prepare well for an interview. In addition, career and employer review sites will help you learn more about the company and its employees, which is a must if you would want to apply for a job. Good luck finding your job at Wackenhut Security, now G4S Security Solutions.