The Original and #1 Website for Security Guard Training
Online Security Guard Training and Career Center
Welcome to Security Guard Training Headquarters! We have everything you need to make your life easier as you begin your career as a security guard officer. State specific training requirements, a step-by-step hiring process, potential employers and interviews to help you get hired are just some of the helpful things you'll find here.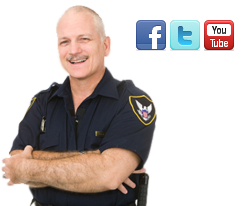 Most jobs in the security business have similar job duties because their main goal is to guard something. That something could be a person, a business, property, or even an item of value. Here are some of the most common job duties a security guard will be asked to perform.
Access Control
A security guard's job may be to make sure that whomever goes in and out of the establishment has the proper authorization. A security guard may need to issue a pass, or check that their pass is valid. Directing people to the proper location is another job duty that might be expected of a security guard.
Theft Guard
Patrolling specific areas may be a part of a security guards job duty. It is indispensable to make sure nobody is stealing merchandise. They may patrol in a security vehicle or on foot.
Vandalism
Having a security guard in appropriate areas to reduce or rid businesses of vandalism or fire. Some areas are more prone to vandalism and arson; therefore, they might place a security guard in that location to deter such actions.
Identification
Checking identification of a person might be apart of a security job. Whether the person is of age, is crucial. Making sure they are who they say they are, or are supposed to be there.
Avoid Chaos
Enforcing the rules of the business in order to avoid chaos is another job duty. This is essential to maintain order and reduce conflicts.
Monitor Security Cameras
Surveillance cameras might be in several different places, and it is the job of the security officer to monitor them. They will need to act on any suspicious activity.
Security Checks
Depending on the business whether it is the entrance to an event or nightclub or even an airport, a security guard may need to provide physical security checks to insure nobody is getting in with a gun or weapon.
Ensure Public Safety
Perform safety and emergency procedures that the business has requested by responding to any bomb threats, emergencies, or fire alarms. Keeping people calm and under control is a part of the duties as a security guard. It is crucial to keep everyone from panicking as much as possible. Be prepared to follow any emergency procedures that the company has created in case of unplanned disasters.
These are just some of the most popular job duties of a security guard hired to protect a business. There are many different jobs within the security guard realm, but these are the most common job duties that you may be asked to perform. When working in security, it is necessary to be ready for anything, at anytime.