The Original and #1 Website for Security Guard Training
Online Security Guard Training and Career Center
Welcome to Security Guard Training Headquarters! We have everything you need to make your life easier as you begin your career as a security guard officer. State specific training requirements, a step-by-step hiring process, potential employers and interviews to help you get hired are just some of the helpful things you'll find here.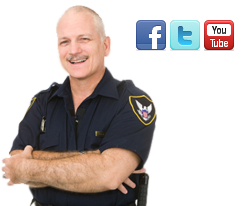 Being a security guard is an important job and you should take pride in it. You should strive to be the best security guard that you should be.  If you want to be great at your security guard job, here are 8 tips:
1. Know your manuals by heart.  You should be familiar with the policies and the procedures of the company you work for. When you first get your job, take it seriously and actually study them as if there was going to be a test.  Because, really, at some point your knowledge will be tested – it just won't be on paper.
2. Practice continuous learning.  Take the initiative to go to workshops or seminars when you learn about them.  Your employer will be impressed and your knowledge in your field will be appreciated.  You will do better at your job with more knowledge.
3. Go to refresher courses when they are offered.  These give you the chance to learn from more experienced guards and it is a great chance to practice continuous learning.
4.  Stay in great shape.  Don't get lazy just because you have the job.  Workout regularly.  Practice strength training and aerobic training so that you are always in your best condition and ready for whatever your job requires of you.
5.  Learn self-defense and practice it as part of your workout routine.  You can have fun practicing your techniques with a co-worker or a friend and the more you practice the better you will get.
6.  Be aware of what is going on in your community.  You should know about crimes that are taking place before they come to you.  If you are well versed in the news of your area you will be better prepared in the long run.
7.  Find a mentor. If you can find someone that can give you good advice when you need it you will have a better chance of being a great security guard.  They can point you in the right direction when you need it and give you constructive criticism.
8.  Never make assumptions.  When you make assumptions you are more likely to go wrong and that can get both you and the company you work for in trouble.  Don't assume that someone is safe just because they are in a suit and tie or a uniform.  Don't assume that someone is ok just because you've seen them around before.  Follow the rules for everyone, not just the people you are suspicious about.  Keep your guard up and your eyes open.