The Original and #1 Website for Security Guard Training
Online Security Guard Training and Career Center
Welcome to Security Guard Training Headquarters! We have everything you need to make your life easier as you begin your career as a security guard officer. State specific training requirements, a step-by-step hiring process, potential employers and interviews to help you get hired are just some of the helpful things you'll find here.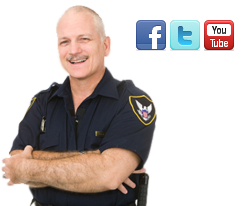 We live in tumultuous and sometimes dangers times. Strife around the world has opened a huge demand for security. Private security companies have stepped up by offering affordable options for individuals and organizations to have themselves and their assets protected.
With high amounts of sophistication and organization, these are the top 10 security guard companies you can find throughout the world.
1. The Brink's Company
Brink's is one of the leading private security agencies in America. It's also been around for a very long time. In fact, Brink's was founded in 1859.
This company serves customers in over 100 countries while employing well over 134,000 professionals. Currently, The Brink's Company is most known for managing cash with a huge fleet of armored vehicles serving banks, mints, governments and other institutions.
It's sister company, Brink's Home Security brings in about 15% of the company's overall revenue every year.
2. CACI International Inc.
CACI's tagline reads "Ever Vigilant." They offer most of their services to the United States Government, including homeland security, defense, intelligence and healthcare.
The company has in excess of 19,000 employees throughout the globe. In 2017, CACI generated an impressive revenue stream of about $4.35 billion. This puts it at the top of the list among private security companies based in the US.
3. Control Risks
This is a globally known private security company based in London. Control Risks specializes in many niche ops such as:
eDiscovery
Risk and strategic consulting
Anti-corruption audits/training
Political risk analysis
Control Risks can be found operating in 36 countries. Its main focus is on providing large companies with feet on the ground, intelligence and expertise that's locally based.
4. GardaWorld
GardaWorld touts itself as a way to guard "clients in complex and ever-changing markets." It's based in Canada and started up in 1995.
They currently employ over 62,000 people across the globe. GardaWorld specializes in armored car services and security guard services all over the world. They process almost $5 billion every day through a cash management partnership with Bank of America. They work in over 140 countries across four continents.
5. DynCorp
DynCorp was founded in 1946. They started the business focused on aviation, then later re-tooled into a military contractor.
Currently, DynCorp offers a wide array of services including:
Intelligence support and training
Flight ops support
Security and contingency operations
A full 96% of DynCorp's annual $3 billion revenue comes directly from the United States government.
6. Allied Universal
Allied began in Pittsburgh in 1957. They launched as a full-service security guard services outfit. In 2016, they merged with Universal Services of America and AlliedBarton, and are considered a premier private security company in the world today.
Allied's staff consists of over 55,000 people. Their revenue in 2017 topped $5.3 billion.
7. ADT Inc.
ADT is an undisputed security company leader in the US. It was founded in the year 1874. Today, ADT is the leader in security and alarm services in the US.
They used to be known as ADT Corporation before they were acquired by Apollo Global Management for a whopping $6.9 billion in 2016.
ADT is a very profitable company and boasts over 6.5 million clients throughout the world.
8. Securitas AB
Securitas AB began in Stockholm, Sweden in 1934. They are a pioneer among the most influential security companies in the private sector.
Securitas has more than 300,000 employees throughout 55 different countries. They're well-known for:
Consulting
Monitoring
Chartered investigations
During the fiscal year of 2017-18, they had revenue in excess of 91 Swedish Krona.
9. G4S Plc.
G4S is located in Crawley, England. It employs upwards of 600,000 pros around the globe. It's a private security agency that touts itself as "the world's leading global security and outsourcing group."
In 2017 G4S had revenues exceeding 7.8 billion pounds.
10. International Intelligence Limited
This is yet another British firm. They focus on investigations and counter-espionage.
Somewhat recently founded in 2002, it was started by Alex Bomberg who worked as an aide to the British Royal Family.
International Intelligence Limited offers services such as:
Technical surveillance
Private investigations
Counter-intelligence
Counter-espionage services
Technical surveillance counter-measures
They have sucessfully operated in the private, corporate and government sectors.
There Are Your Top Ten
These ten are the best security companies operating around the world. There's a lot that can be learned by studying the details of their operations.