The Original and #1 Website for Security Guard Training
Online Security Guard Training and Career Center
Welcome to Security Guard Training Headquarters! We have everything you need to make your life easier as you begin your career as a security guard officer. State specific training requirements, a step-by-step hiring process, potential employers and interviews to help you get hired are just some of the helpful things you'll find here.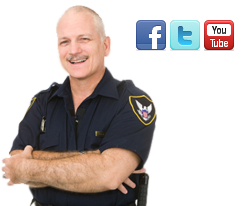 So, you've been at the same company for a while and you haven't gotten your first raise yet?  You're thinking it might be the right time.  But how do you go about it?  What can you do to increase the chances that they say, yes?  There are some things that will increase your chances of getting that raise that you want.
First, make sure you are prepared.  You should know that you deserve that raise.  When they ask why you deserve a raise (because they will), your answer should not be, "Well, I've been here for two years and I haven't gotten one yet."  That will not do the trick. You should know why you're an asset to the company and you should be able to tell them about your accomplishments.  You should also know what is an acceptable raise for the market and for the company.
Plan ahead by having a preliminary discussion with your boss.  Find out what factors are considered when the company is thinking about giving someone a raise.  Make sure you focus on those things.  Set goals with your employer so that they know what you are working on and check in with them from time to time.
Get ready before you ask by writing down all of your accomplishments.  When you meet with your employer to ask for a raise you'll find it is kind of like an interview.  You will need to be able to talk about what you have done and how that adds value to the company.  Practice. Before you go into that big meeting, you should be able to talk about any of your accomplishments and explain them fully without blinking an eye.  Confidence plays a big factor here.
It is also good to document things that others have said about you.  When you receive praise from someone, make sure you write it down.  You can implement these words of praise from co-workers and supervisors into your accomplishments so that your employer sees that it is not just you that thinks you provide value for the company.
Finally, pick the right time.  You don't want to ask for a raise when your boss is in a bad mood or when there has been a big problem in the company and several employees have had to be dismissed or reprimanded.  Your boss will be stressed and will not be in the mood to approve anyone's raise, even though you weren't involved.  If you know the company is going through some tough financial times, hold your cards and wait.  Try to have your meeting after the company has had a big success or when you have done something really great.