The Original and #1 Website for Security Guard Training
Online Security Guard Training and Career Center
Welcome to Security Guard Training Headquarters! We have everything you need to make your life easier as you begin your career as a security guard officer. State specific training requirements, a step-by-step hiring process, potential employers and interviews to help you get hired are just some of the helpful things you'll find here.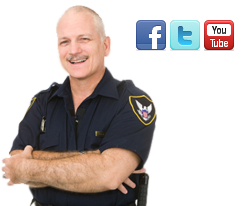 Security guards play a very important role in any company that employs them. They make sure that people, places, and things are safe. If there is an incident, they are there to relay the details to responding officers and without those details, it would be much more difficult for police officers to do their job. Security guards are found at private buildings, large corporations, malls, and many other locations to offer protection.
When employers are hiring security guards to protect their business or the people that use the space, the most important qualification that they look for is certification. It is essential that the people that they entrust their safety to have completed proper security guard training and have taken courses that are approved and certified. Of course, there are many other qualifications and skills that employers of security guards look for, too.
One of the qualities that employers expect is that candidates are in good physical condition. If there is a break in or someone's well being is at risk you will have to be in good physical shape to subdue the suspect or protect the victim. You will also need to make sure the suspect does not escape before the police arrive. If you are not in good shape it will be very difficult to fulfill these parts of your duties.
Employers also look for security guards at are able to communicate well with other. They may have to speak to people that come to the building to purchase products or services or they may have to diffuse a difficult encounter with a suspect. If there is a emergency, employers need to be confident that their staff will not make the situation worse by losing their temper or being overly assertive.
Although it might not be obvious, employers also look for security guards that have first aid training and experience. If you are protecting people it is necessary that you know how to help someone if they are hurt. Employers expect that you will know how to do CPR and other first aid skills so that you can help someone until the ambulance gets there.
There may be a great deal of variety in the skills and qualities that employers are looking for in a security guard, depending on what kind of position they are hiring for; however, there will always be some skills that are useful and will help the security guard do a better job, no matter what kind of job is being interviewed for.