The Original and #1 Website for Security Guard Training
Online Security Guard Training and Career Center
Welcome to Security Guard Training Headquarters! We have everything you need to make your life easier as you begin your career as a security guard officer. State specific training requirements, a step-by-step hiring process, potential employers and interviews to help you get hired are just some of the helpful things you'll find here.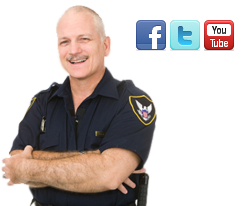 No matter where a security guard works they should always be prepared for what lies ahead. It's almost as if you should "expect the unexpected" in the security world. When an incident happens, no one will be able to prepare in advance for, so they need to be prepared physically and mentally. To keep safe a security guard most train, not just once but continuously. Here are some self defense tactics for security guards to take to heart:
Start Training Early: Security guards should start training before they even decide to enter the field. Think about the chances a person has to get involved in self defense classes. Self defense is the first stop in defense for anyone, so it only makes sense for a security guard to begin there.
Employer Requirements: The good news about working with a security company is that most of them provide their own training. When hired on, a security guard might go through some sort of training to help make them better at their job. Even if the business does not provide training they will most likely give out resources to the security guard. Safety should always be a main concern for the security guard and those hiring the security guards.
Forms of Martial Arts: Learning martial arts is a great way for a security guard to protect him or herself. Keep in mind that you may want to talk to the instructor about the type of defense available for security guards. This is important because most people who are taking martial arts are doing it for self protection. The roles of a security guard include keeping others safe and catching the person in question.
Studying Self Defense Tactics: Early training, employer training and learning martial arts are just a few ways security guards can protect themselves against criminals. In fact, security guards can take action and be prepared in every way because this only helps make the area safer.
Self defense tactics are everywhere and there is no right or wrong approach to use when it comes to protecting oneself or someone else. Security guards may be faced with a gunman or someone trying to use a knife. There may also come a time when they are confronted by someone who is much larger than them. Most criminals do want to be caught and they will fight back. The big question is: will that security guard be prepared?